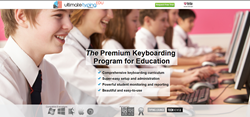 To help students type faster, teachers need more than a lot of typing activities and games.
New York City, NY (PRWEB) July 12, 2014
Ultimate Typing™ EDU, the latest product from educational software company eReflect, is a pioneering typing program on the Cloud that is now available to schools around the world. One of its most talked about features is its live progress tracking and reporting technology.
This feature allows teachers to closely monitor students' typing practice and progress. It's an easy to use feature that offers a lot of help to teachers and saves plenty of time when it comes to effective student progress management, something eReflect highlights in their announcement today.
To help students type faster, teachers need more than a lot of typing activities and games. Progress monitoring needs to also be in place so that students can identify their weak areas and so that teachers can offer each student a personally tailored individual practice regimen that addresses those weak spots and further hones the students' strengths.
The latest typing version of Ultimate Typing™ for schools was designed to offer a simple interface for student management that's powerful and accurate at its core. Teachers have access to live online reporting for their students' practice and are additionally offered actionable feedback as to specific aspects of typing, including a student's hand, finger, or key performance. Teachers can also see what a student's typing performance goal is and how close they are to achieving it, and provide the necessary motivation to move each student closer to their goal.
Another benefit of the progress tracking and reporting technology of Ultimate Typing™ EDU is how easy and intuitive online administration and student management is. The program allows teachers and supervisors to import, manage, and configure entire classes in a few simple steps. It's easy to create new user accounts, adjust learning practices, and offer students relevant typing activities to practice with through a user-friendly interface.
Instead of offering yet another cumbersome, resource-heavy typing tutor, eReflect breaks ground with its comprehensive keyboarding curriculum designed especially for the classroom and aimed at optimizing students' keyboarding skills with minimum practice and in a short time.
With the brand new online Typing™ program, eReflect wishes to give students the skills they need today in school, and a head start in the job market of the future where typing skills will continue to be a required computer skill in a variety of fields.
*********
For more details on Ultimate Typing™ EDU please visit http://www.ultimatetyping.com/schools.
About Ultimate Typing™
Ultimate Typing™ software is designed specifically for the improvement of typing skills. Created by eReflect, a world leader in e-learning and self-development software, Ultimate Typing™ has been informed by the latest developments in the science of touch typing.
Since its creation in 2006 by Marc Slater, the company has already catered to over 112 countries all over the world, offering products with the latest cutting-edge technology, some of which are among the world's most recognized and awarded in the industry.