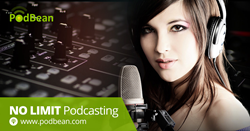 Podbean's new unlimited plans are a real game-changer when it comes to podcast hosting.
(PRWEB) July 10, 2014
Podbean, a leading podcast hosting service, announces the creation of two new storage plans: an unlimited audio plan for as little as $8 a month (when purchased annually) and an unlimited video plan for as little as $18 a month (when purchased annually).
The plans, which are part of Podbean's new "No Limit Podcasting" campaign, are a significant upgrade over storage maximums previously offered by Podbean and its competitors.
Until now, storage offered by podcast hosting service providers at the $8 a month rate was typically 300MB of space, according to a spokesman at Podbean, which currently has more than 681,000 registered members and services around 1 million audio and video downloads daily.
"Needless to say, our new unlimited plans are a real game-changer when it comes to podcast hosting," said David Xu, CEO of Podbean. "With an unlimited storage plan offered at $8 per month, this is going to dramatically lower the entry level for individuals and businesses who want to start a podcast. Plus, Podbean provides unmetered downloading bandwidth, so there will be no burden or pressure when their podcasts get popular."
The new unlimited audio and video plans still include all the features that Podbean has become known for providing to its clients, including:

Professionally designed, customizable templates that can be presented across desktop, iPad, iPhone, Android and other mobile devices and that allow podcasters to quickly and easily develop their own unique style.
A user-friendly interface that integrates widgets and publishing, management, syndication and analysis tools into an easy-to-use podcasting package.
A point and click environment that allows users to publish, manage and promote podcasts without any technical knowledge.
Embeddable code that makes it easy for publishers to integrate podcasts into their own websites, blogs and social networks around the web, including Facebook, Twitter, Google+, Blogger and more.
Comprehensive statistics that help podcasters to get information about their podcast audience to understand who the listeners are, how they found the podcast, when and how they play the podcast, where they're located, their favorite episodes and more.
"In the past, as a podcast grew, the podcaster would need to buy more storage space to upload more and more tracks," said Xu . "In other words, the more popular someone's podcast became, the more they would have to spend. Now with Podbean, podcasters never have to pay extra for a popular podcast."
The new unlimited audio and video plans are available now. Click here for a 14 day free trial of the best value in podcast hosting!