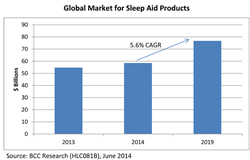 Global Market for Sleep Aids to Reach $76.7 Billion in 2019
Wellesley, Mass., (PRWEB) July 08, 2014
BCC Research (http://www.bccresearch.com) reveals in its new report, SLEEP AIDS: TECHNOLOGIES AND GLOBAL MARKETS, the global market for sleep-aid products is expected to grow to $76.7 billion by 2019, with a five-year compound annual growth rate (CAGR) of 5.6%. The sleep apnea products and diagnostics market is projected to move at a tremendous 11.3% CAGR.
The sleep-aid products industry includes products such as specialty mattresses, high-tech pillows, drugs and at-home tests. The mattresses and pillows category is far and away the largest products segment in the overall market and is expected to grow to $34.1 billion by 2019.
However, the sleep apnea devices category, which was valued at just $11.8 billion in 2013, is projected to jump to $23.6 billion by 2019. Broadly classified into diagnostic devices and therapeutics devices, the sleep apnea market is experiencing fierce competition. Worldwide, 100 million people are believed to have the condition, with 80% remaining undiagnosed.
Currently, the U.S. is the single largest market for sleep aids such as mattresses, sleep apnea devices, sleep laboratories and medications with a major share of 65.7% of the global market. As the sleep market in the U.S. is nearing maturity, it has been predicted that the U.S. share will slightly decline to about 64.1% in 2019. This slight decline in market share in the U.S. will be due to the growth of the market in other emerging markets.
"Sleep-related disorders are still poorly understood, under-diagnosed, and under-treated," says BCC Research healthcare analyst, P. Natana Raj. "There are plenty of opportunities for new drugs to treat these conditions, particularly where they offer benefits over existing agents. The discovery of new mechanisms and chemicals in the brain has provided expanding avenues for research and development of products that are likely to alter the course of sleep disorders and the sleep-aid products market."
SLEEP AIDS: TECHNOLOGIES AND GLOBAL MARKETS provides an overview of the global market for sleep-aid products and related technologies. It includes analyses of global market trends, with data from 2013, estimates for 2014, projections of CAGRs through 2019, and profiles of companies important in the industry.
Editors and reporters who wish to speak with the analyst should contact Steven Cumming at steven.cumming(at)bccresearch(dot)com.
About BCC Research
BCC Research publishes market research reports that make organizations worldwide more profitable with intelligence that drives smart business decisions. These reports cover today's major industrial and technology sectors, including emerging markets. For more than 40 years, we have helped customers identify new market opportunities with accurate and reliable data and insight, including market sizing, forecasting, industry overviews, and identification of significant trends and key competitors. We partner with analysts who are experts in specific areas of industry and technology, providing unbiased measurements and assessments of global markets. Our clients include the top companies in industries around the world as well as universities, business schools, start-ups, consulting firms and investment companies. BCC Research is a unit of Eli Research LLC. Visit our website at http://www.bccresearch.com. Contact us: (+1) 781-489-7301 (U.S. Eastern Time), or email information(at)bccresearch(dot)com.
Data and analysis extracted from this press release must be accompanied by a statement identifying BCC Research LLC, 49-2 Walnut Park, Wellesley, MA 02481, Telephone: (+1) 781-489-7301; Email: editor(at)bccresearch(dot)com as the source and publisher. Thank you.