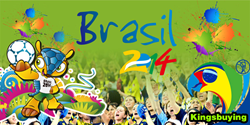 (PRWEB) July 09, 2014
Kingsbuying, one of the best B2C e-commerce companies in the world, has recently launched a special offer for all its new products, including LCD HD Digital Camera Recorders, Intel Windows Tablets, USB Power Banks, etc. (Visit this page http://www.kingsbuying.com/the-world-cup.html to learn more details.) Worldwide customers can also visit its Facebook (https://www.facebook.com/Kingskiel) for more information. When visiting the company's website, clients have the chance to get free exquisite gifts.
Kingsbuying.com aims to provide cheap, top quality electronics products for customers from all over the world. The company has built a long-term relationship with many warehouses, distributors, and factories. It applies strict testing and quality control procedure to ensure that each item can meet the high standards.
Now, Kingsbuyings is offering a full range of gadgets online. The company's top experts are committed to providing high quality goods for worldwide clients. They cooperate with many industry leaders like Apple, Canon, Nikon, Nintendo, Samsung, XBOX and many more. When shopping on its website, clients don't need to waste money and energy.
Kingsbuying has been widely accepted by most of the global customers. It is famous for its intuitive, clear and efficient shopping process. All its clients are pleased with its great products and the efficient shopping experience. What customers need to do is to check the organized category and then place an order. The company focuses on high end electronic gadgets; tablet and PCs are the most popular items of the company. They are available in different sizes and formats. Also, it provides many different cell phones, including tablet PC, China cellphones and excellent accessories. In a world, the company has a wide range of products online for sale. All its items can make people's living comfortable and refreshing.
What's more, Kingsbuying also provides perfect post-sale services. Its online workers will not ignore any related questions. To ensure that all buyers can get effective support, it also accepts live chat.
Clients throughout the world can enjoy the great services. After an order is placed, the related items will be shipped as soon as possible. The company offers a variety of shipping methods, which is very convenient for worldwide customers. Customers will receive what they want in only a short period of time. The purchasers can track the latest information about their parcels via e-mail.
Kingbuying is always working hard to provide the most intimate service for consumers anytime. It is celebrating the 2014 World Cup by offering extremely amicable service. Now, worldwide customers can enjoy the excited World Cup and enjoy the great shopping experience on Kingbuying's website.