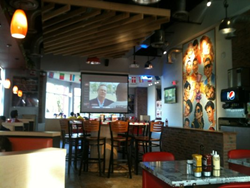 The Interchangeable Back Metal Bar Stools stand up to heavy usage without getting wobbly or breaking.
Miami, FL (PRWEB) July 08, 2014
Restaurant Furniture Supply recently helped El Corral in Miami, Florida with the grand opening of their new burger restaurant by supplying them with new bar stools and table bases.
El Corral is a burger restaurant chain with over 200 locations in Latin America in over 5 countries and 2 locations in North America. The restaurant opened its first location in Bogota, Colombia and quickly expanded. They recently opened their first location in the United States in Miami. Two new locations are scheduled to open in Brickell and Hollywood, Florida.
The restaurant has a wide selection of burgers to choose from. Customers can order char-grilled or grilled burgers. The burgers are all made with 100% certified Angus beef. They also serve chicken entrees, salads, side dishes such as sweet potato fries and chili bowls, milkshakes and desserts such as ice cream and brownies. They use fresh locally sourced vegetables and high quality cheese.
El Corral markets itself as a gourmet burger restaurant. Customers order at the counter and the meals are served to their tables. Typical prices for burgers range from $5.99 for a basic 1/4 lb burger to $12. Soft drinks are $3. They also serve beer. The interior is decorated with pop art which includes caricatures of Hispanic celebrities.
El Corral's décor is modern and hip so the owner was looking for quality bar stools and tables that fit in the restaurant's upscale image. "He turned to Restaurant Furniture Supply for commercial bar stools because of their reputation for excellent quality at affordable prices," explained sales person Chris K. "He opted to go with the Interchangeable Back Metal Bar Stool with Slats and Circle in black frame finish and solid wood seats in cherry finish. "The Interchangeable Back Metal Bar Stool is one of our most popular bar stools across America. As a restaurant with many visitors he knew that the restaurant would need durable bar stools. The Interchangeable Back Metal Bar Stools stand up to heavy usage without getting wobbly or breaking, like a bar stool not constructed for commercial use would tend to do," Chris K. said.
Restaurant Furniture Supply's Interchangeable Back Metal Bar Stool with Slats and Circle is currently on sale for $67.50. A matching Interchangeable Back Metal Chair with Slats and Circle sells for $47. Customers have the option of a solid wood seat or a high density foam padded seat. The padded seat is made in the USA and comes in vinyl or fabric in many different colors. A custom seat can also be upholstered in any material for an extra cost. The solid wood seat is available in cherry, dark mahogany, walnut, natural and black finishes. A custom finish can also be made. The frame comes in black, gold, copper vein, silver vein or gold vein.
Browse Restaurant Furniture Supply's full selection of commercial grade chairs, bar stools, table tops, table bases, booths and patio furniture at http://www.restaurantfurnituresupply.com/ or talk to a customer service representative at (888) 346-9992.
El Corral is located at 7780 NW 25th St. in Miami, FL. They can be contacted at: (305) 392-1419.