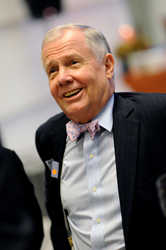 "We are delighted that Jim Rogers will be joining us in Brazil at a particularly exciting time for our company. His expertise both as a legendary investor and astute financial markets commentator is well known." - Anthony J. Archer
(PRWEB UK) 9 July 2014
Don't miss the opportunity to join alternative investment specialists, Liquid Investments, in Fortaleza, Brazil at their annual Investment Summit and on their plantations, bordering some of the most unspoilt and beautiful beaches in the world.
Join a host of investment and industry experts, led by commodities and markets guru Jim Rogers. He will discuss and debate prospects for global markets and different asset classes, against the background of a winding down of the Fed's monetary stimulus.
Basking in the success of one of the most exciting and successful soccer World Cups in memory and one month before Brazil's Presidential election, there won't be a more stimulating time to visit this global top-six economy and fast changing country.
Highlights of the Tour and Summit include:

A keynote presentation by Jim Rogers, followed by a book signing of his recent bestseller – 'Street Smarts'
Listen to other specialist and thought provoking speakers including Peter Zipper, Joel Nagel and Jesus Mantas.
Further presentations from Liquid's senior team including Anthony J. Archer (Founder and CEO), Sandeep Chadha (CFO) and Wayne P. Kurtz (CCO)
Topics to be discussed include 'The primal need for food', 'The offshore tax environment post FATCA' and 'The need for asset diversification'.
A tour of Liquid's Neem factory as well as the company's Coconut and Neem Plantations
Register for more information.
Email - tours(at)liquid-investments(dot)com or call +44 (0) 20 7084 7421 for any questions regarding the Tour or Summit