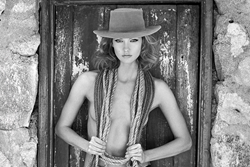 (PRWEB UK) 8 July 2014
TAMARA MELLON BRAND is proud to announce the launch of its United Kingdom-based e-commerce site. TAMARAMELLON.COM emulates the brands image – modern and sensual. The site offers ready-to-wear, footwear, handbags and includes the Endless Collection. It provides easy navigation, clean images and the ability to shop by trend, which translates to a customer-centric experience.
The launch of the site coincides with the release of the June and July 2014 Monthly Fashion Concepts, featuring images of Karlie Kloss, entitled Kowboy Karlie. The editorial channels a liberated woman and is inspired by 1960's images by Sam Haskins. TAMARAMELLON.COM will integrate Kowboy Karlie with new fashion and product offering. The site launches with Western-inspired felt hats including the Texas Rose, Montana and Bad Ass as well as the Unchained Roper Boot, which were made in Texas.
"We are producing unique Tamara Mellon Brand editorial content, highlighting new product deliveries. I love this because it allows me to use the skills I learned as an Editor at Vogue. Each shoot will highlight a new fashion concept, which will embody the buy now, wear now philosophy. I believe that this will bring excitement back to fashion for the customer." Tamara Mellon, OBE
TAMARA MELLON Red is featured throughout the site to express the power and confidence that characterizes the TAMARA MELLON woman.
TAMARA MELLON BRAND evokes a modern and powerful woman. She is a woman of the world; glamorous, sophisticated and confident. The collection mirrors Mellon's own personal style, which is modern, clean and sensual.
FOR MORE INFORMATION PLEASE CONTACT COLBY KOTZEN: COLBYK(at)TAMARAMELLON(dot)COM