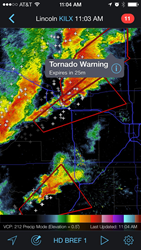 Norman, OK (PRWEB) July 08, 2014
Weather industry leader, Weather Decision Technologies (WDT), has released the latest version of RadarScope for iOS and Android platforms. 

New free updates in RadarScope 2.2
Addition of new NEXRAD Dual Pol products 
Support for rapid updates in SAILS mode 
WDT's proprietary Precipitation Depiction Product for Canadian radars 
RadarScopeTV Airplay display (iPad only) 
Improved Spotter Network diagnostics 
Introducing RadarScope Pro
RadarScope Pro is a $9.99 yearly subscription available via in-app purchase that provides access to the following:
Real-time non-gridded lightning data feed that animates with the radar - absolutely the most accurate and fastest lightning information available
Extended radar data feed for up to 20 frames of Level 2 "Super Res" data, extending playback for a more complete dataset
About RadarScope:
RadarScope is a specialized display utility for weather enthusiasts and meteorologists that allows mobile, Mac, and tablet users to view NEXRAD radar data and severe weather warnings. This premium application can display the latest reflectivity, velocity, and other radar products from any NEXRAD radar site in the United States, Canada, Guam, and Puerto Rico. RadarScope is available on the App Store, Mac App Store, and Google Play. Follow on Twitter @RadarScope.
About Weather Decision Technologies, Inc. (WDT):
Weather Decision Technologies, Inc. is the industry leader, providing organizations with weather decision support on a global scale. WDT offers specific expertise with big data as it applies to hazardous weather detection and prediction, forecast modeling, decision analytics, GIS, mobile apps, and interactive mapping. WDT maintains operational offices in Norman, Oklahoma and Houston, Texas.