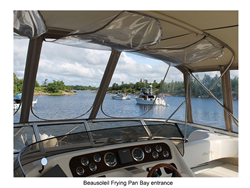 Midland, Ontario (PRWEB) July 08, 2014
The summer 2014 web TV episode of Boating Georgian Bay TV has just been released. This is the first of two episodes to come out this summer. The popular series deals with cruising the 30,000 Islands and the North Channel and boat related special events. Georgina Bay's 30,000 Islands and the North Channel are considered by many to be the best fresh water cruising grounds for yachts in the world ... rivalling salt water destinations like the Caribbean, Chesapeake Bay and the Greek Isles. Many Ontario cruisers, North American "Loopers" and out of country visiting yachts spend the summer in Georgian Bay and the North Channel.
This episode of Boating Georgian Bay TV features a new co-host Gail Holness. Gail's a yoga instructor by profession, but she jumped at the chance to get involved with the show and her outgoing personality is the perfect match to offset the more technical segments in the show. This summer 2014 episode features a tour of Orville Wrights Kittyhawk yacht which plied the waters of Georgian Bay for decades and was restored by Midland local Guy Johnstone. Guy's father in law, Wilfred France of Franceville was Orville Wrights friend and caretaker on Orville's beloved Georgian Bay, Lambert Island. The show also has segments with CMC Electronics looking at the latest Raymarine gear aboard a 54' Cruisers yacht, Canada Day weekend festivities, Big Orange holding tank filter install, the first annual Georgian Bay In-Water Boat Show, flying over the 30,000 Islands with Georgian Bay Airways and more.
This is the fifth Boating Georgian Bay TV episode produced and the first show of the 2014 season. The show is web broadcasted on http://www.boatinggeorgianbay.com ... Ontario's busiest boating site. The upcoming final 2014 show will feature the Ranger Tug Rendezvous in the North Channel, a tour of Killarney marine village, Huronia Museum marine archives, Beausoleil Island Aquapalooza event and a visit to CYC Yacht Charters in Gore Bay. Production of the 2014 Boating Georgian Bay series is made possible by sponsorship from Esterline CMC Marine Electronics and Ranger Tugs - Lefroy Harbour Resorts.
About Boating Georgian Bay: Ontario's busiest boating directory, averaging over 5,000 hits a day, in peak season, Boating Georgian Bay is an online marina, accommodation & event directory covering all of Georgian Bay and the North Channel. They offer useful information for boaters, including feature articles, weather, local attractions, yacht charters, marinas and marine services, boat brokers, local history, places to eat, and much more. For further information on Boating Georgian Bay, call 705 286-3656 or visit http://www.BoatingGeorgianBay.com.
Contact Information:
Mark Coles
Boating Georgian Bay
PO Box 525
Minden ON K0M 2K0
(705) 286-3656