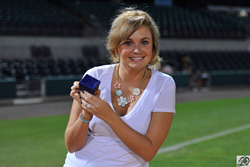 Pine Bluff, AR (PRWEB) July 08, 2014
On June 19, ladies had the chance to win a gorgeous diamond ring thanks to Sissy's Log Cabin. This year, 350 women showed up for the annual Sissy's-Arkansas Travelers Diamond Dig at Dickey Stephens Park. Women came from all over to get their chance at winning the diamond ring.
At the park, the women ages 18 years or older were called down to the field after the game to dig in the infield. They were given spoons and told that somewhere hidden in the dirt was a diamond ring valued at $2,500. Whoever found the ring would be able to take it home.
After much trial and tribulation, Hayley Trimble, of Fort Smith, AR, took home the much-desired prize. She wasn't the only one, however, who took home something special. The first 200 women on the field were each given a CZ (cubic zirconium). One of these CZ's was laser inscribed to determine it as a winner. The woman with this CZ was to bring it back to Sissy's to receive a Lagos bracelet.
Sissy's Log Cabin is proud to have been involved with such a fun event. The jewelry store is always looking for new ways to get involved with the community and help women achieve their jewelry dreams. For more information about the Diamond Dig event or about Sissy's, visit http://sissyslogcabin.com/ or stop in to one of their three locations today.
<br>About the company:<br>Sissy's Log Cabin has been a family-owned and operated jewelry store for 43 years. They pride themselves on quality and customer service. Their staff of experienced professionals has received numerous awards on both the state and national levels. Sissy's Log Cabin has evolved into Arkansas' largest independently owned jewelry store with three locations in Pine Bluff, Little Rock and Jonesboro filled with diamonds, jewelry, estate jewelry, fine gifts, fabulous antiques and more. Sissy's Log Cabin is committed to providing their customers with high quality jewelry and superior service. There's no better place around to shop for jewelry and fine gifts. For more information on their locations, jewelry selection and services, please visit their website at http://sissyslogcabin.com/.