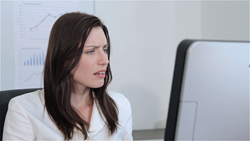 While the message of the first video is 'this is how it could be', the second message is 'this is how it is and nothing will ever be perfect – but maybe this is the beauty of it'
New York, NY (PRWEB) July 09, 2014
After releasing the first video of the 'Tribute to Modern Women' campaign last week, Vanaia LLC now launched its sequel subtitled 'No Such Thing as Perfection'. Whereas the first video paints a beautiful picture of how life of a modern women could be, the second focuses on a less perfect reality of women's everyday lives.
Even though the first video touched many, the feeling of discrepancy between potential and reality did not agree with everyone. Among the most telling feedback was a comment posted by a viewer on Vanaia's Facebook page:
"This video missed the part where I wrestle my two children out of bed into something that hopefully matches... The moment where I trip on that cat, step on Lego, search for my car keys, make-up... /.../ Yes my days are full of smiles, but I need whatever this mom is ON!"
Vanaia's representative Jan Kreuzer said: "There are always more sides to the same story and this is exactly what we have tried to achieve by launching two very different videos. While the message of the first one is 'this is how it could be', the second message is 'this is how it is and nothing will ever be perfect – but maybe this is the beauty of it'."
About ScanWritr Mobile App
ScanWritr is an all-in-one productivity/business mobile application, which allows users to scan, digitally fill out, sign, store, E-mail, print and fax paper forms or other physical documents. It is also a PDF maker and a document importer. Among the supported are all commonly used formats (such as .docx, .odt, .pptx, .xlsx, etc), as well as less known ones (such as Korean .hwp).
The app is available on iOS, Android, Windows Phone, Blackberry and Windows 8. It comes in two forms: as ScanWritr and ScanWritr Pro. The first one is free and features ads, 5 page per export limit and watermarks. All of the limits can be removed using in-app purchases, while the pro version is completely unlimited and available for just $3.99. The separate faxing service uses affordable prepaid pricing plan, where users can buy credit in the form of tokens for $0.99 a piece. There are no monthly fees for any of ScanWritr's features.
About the developer
Vanaia LLC is a New York City-based company, which made its debut appearance on mobile application market with ScanWritr app. It goes by the slogan "Mobile solutions that work for you", which summarizes company's mission to satisfy a wide range of productivity-related needs for modern people and companies. The essence of their business philosophy is to create mutually beneficial connections with their costumers, while striving to take as little as possible from the environment. Vanaia is probably also the only company in the world that has an "About YOU" page.