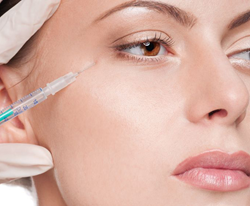 When we use a combination approach, with more than one location and in an artful, scientific and sophisticated manner, patient satisfaction is very high.
Rolling Meadows, Ill. (PRWEB) July 09, 2014
Consumers give high marks to wrinkle-relaxing injections, soft-tissue fillers, and body sculpting treatments, according to survey data on cosmetic skin treatments released recently by the American Society for Dermatologic Surgery.
Those three categories of treatments received satisfaction ratings of 90 percent or above for the second straight year. The percentages of those "extremely satisfied" with the procedures increased significantly in all three groups.
More than 8,300 people responded to the second annual ASDS Consumer Survey on Cosmetic Dermatologic Procedures, providing opinions on cosmetic treatments in general and ratings for 10 specific procedures.
Consumers are most satisfied with wrinkle-relaxing injections to soften facial lines and crow's feet. Three types of wrinkle-relaxers, also called neuromodulators or neurotoxins, are available: Botox, Dysport, and Xeomin.
Soft-tissue fillers such as Belotero, Juvederm, Radiesse, Restylane, Sculptra, and Voluma, which smooth wrinkles and folds and add facial volume, also get top marks.
Satisfaction with body sculpting also is high. Options include tumescent liposuction, performed in an office setting under local anesthesia; cryolipolysis, also known as "fat-freezing;" laserlipolysis to remove localized, stubborn pockets of fat; and other non-invasive treatments – using focused ultrasound and/or radiofrequency – for fat and cellulite.
ASDS President Mitchel P. Goldman said consumers increasingly are aware of the availability and effectiveness of cosmetic procedures, and that options now include many minimally and non-invasive treatments.
ASDS member dermatologist Derek Jones, M.D., performs thousands of injectable treatments each year.
"They are relatively affordable and, especially in well-trained hands, involve minimal downtime," he said. "Most people can have an injectable treatment and go right back into their day. Other surgical treatments require much more advance planning in terms of scheduling."
Most of his patients receiving wrinkle-relaxing injections also opt for fillers for a "global-face" approach, he said.
"We have a whole portfolio of products. When we use a combination approach, with more than one location and in an artful, scientific, and sophisticated manner, patient satisfaction is very high," he said.
Goldman said body sculpting "is popular because it works so well," he said. The average liposuction patient in his multi-dermatologic surgeon practice has 2.3 procedures within two to three years. "Once they see how easy it is – downtime is a few days, typically – and that the results are so good, they want it done on a different part of their body," he said.
He added innovation also is increasing patient satisfaction. "Breakthroughs – many spearheaded by ASDS members – have increased treatment effectiveness and safety and, as a result, satisfaction ratings."
The treatments with the highest satisfaction ratings reflect the top reasons consumers say they turn to cosmetic procedures: to look "as young as I feel or better for my age," to appear more attractive, and to feel more confident. Those were the three most important reasons cited in 2013 as well.
Survey results show some prospective patients worry that treatments may not provide the desired outcome. "Too many people are performing procedures who don't have the extensive experience and training dermatologic surgeons do," said Jones. "Patients may have one aspect of the face altered in relation to another, and the outcome is not what they want.
"When patients go to well-trained ASDS members who practice with artistry, aesthetics, and science in mind, the outcomes are exceedingly good," he said.
Goldman agreed. "ASDS members are the obvious choice for both cosmetic and medically necessary procedures," he said. "We are the skin experts."