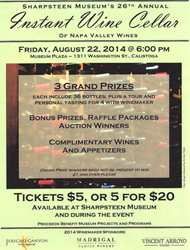 Calistoga, CA (PRWEB) July 08, 2014
Sharpsteen Museum is excited to announce that the 26th Annual Instant Wine Cellar event will be held at Sharpsteen Plaza from 6-7:30 p.m. on August 22. The event will feature fun prizes, delicious appetizers and of course, plenty of wine.
There will be three grand prizes, each including 36 bottles of premium Napa Valley wines plus a private tasting for four with the winemaker from one of this year's winemaker sponsors: Jericho Canyon Vineyards, Madrigal Family Winery and Vincent Arroyo Winery. In years past, over 6,000 bottles of Napa Valley wines have been awarded to the winning ticket holders and nearly $300,000 in additional raffle prizes has been won.
Prize and auction packages are donated by Calistoga businesses, spas, restaurants, bookstores, specialty shops, hair salons, hotels, auto repair shops and hot air balloon rides. Raffle tickets for these packages will be sold the night of the event only and the cost is $2 per ticket.
Grand Prize tickets are on sale now at the museum and will also be sold at the event. Ticket price is $5 each, or guests can purchase five tickets for $20 and receive a bonus ticket for a special prize drawing only for bonus ticket holders. Ticket holders need not be present to win Grand Prizes, but must be 21 and older, please.
This event is free to attend and is open to the public. Guests will enjoy wine and appetizers and enter to win some great prizes. Raffle package tickets will be pulled and auction winners will be announced at the event.
For additional information, please call the Sharpsteen at 707-942-5911 or see their website: http://www.sharpsteenmuseum.org.
The Sharpsteen Museum's permanent exhibits are designed to present the history of the upper Napa Valley from its pre-history to post World War I with an emphasis on people and changes brought by the period of U.S. emigration and development.
In addition to its many historical exhibits, the Museum uses unique and extraordinarily extensive dioramas to depict Calistoga during its period as the elegant 1860s Hot Springs resort developed by pioneer, promoter, publisher, entrepreneur and California's first millionaire, Sam Brannan. Sharpsteen Museum has special exhibits which change twice a year, every six months, and reflect the varied interests of the people of the Valley. They have ranged from antique silverware to model ships to historical musical instruments.