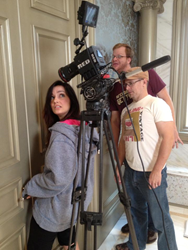 Pairing a writing contest with a film production competition is a dream come true for writers.
Los Angeles, CA (PRWEB) July 08, 2014
Entry Deadline October 7th
The 6th Annual "Write of Passage" Screenwriting Competition (WP) writer entry deadline is October 7th. The theme for 2014 is "Freedom."
The purse includes a $1,000 First Prize plus introductions to writer/producers like Luke Schelhaas (THE GOOD WIFE, LAW AND ORDER) and Brian Bird (WHEN CALLS THE HEART, TOUCHED BY AN ANGEL). Finalist scripts may be produced for the 168 Film Festival's Write of Passage Spotlight.
Writer entry fees are $30-45 (Earlybird Rate $20-ends 7/11) and writing week is October 13-20. Submissions are up to 12-pages and based on a foundational scripture with the 2014 Theme: Freedom. Verse Assignment is Oct. 13th and winners are announced in November (http://www.168film.com).
According to Founder and Director, John David Ware, "Pairing a writing contest with a film production competition is a dream come true for writers, who will craft positive portrayals of realistic characters in redemptive, thought-provoking stories that honor God."
New this year, WP writers can opt to write stories with kids in mind. These stories will then be offered to young filmmakers to produce free of charge. "Story is the hardest part. We're excited to see some of these scripts come to life at the hands of these youthful storytellers," said Ware.
Click here to register for Write of Passage or here to obtain competition information.
Write of Passage is a mentored competition, which uses "Development Executives" (DE's) to coach writers and to judge the first round.
"DE's develop their sense of story and learn how to motivate and encourage a creative people to achieve excellence," said Ware. Interested potential DE's should send resume and references to writeofpassage(at)168project(dot)com. DE's pay no fee, but they cannot enter the contest as a writer. Both writers and mentors receive screen credit if the story is made into film.
Entrants may participate in both the Write of Passage and the 168 Film Project, a source of over 800 faith-based, short films in 12 years.
###