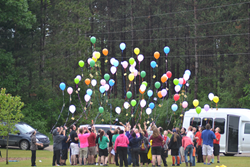 Hersey, MI (PRWEB) July 09, 2014
Heart stage recognizes a leap forward in healing, personal responsibility and good decision-making for youth at Eagle Village. It signifies an open heart allowing hope for a brighter future and freedom from the trauma and personal struggles that led them to be there. Heart Stage means more privileges and responsibilities so it is a very high achievement for the kids.
While at Eagle Village, Zoe worked to overcome her depression and self-harming behavior with the help of staff, friends, and family. "I can see myself changing in such a positive way-- a way I never imagined that I could," she revealed. Her newly opened heart is evident as she chose to recognize an international mental health awareness campaign, The Semicolon Project, at her heart stage celebration.
Zoe asked that everyone celebrating her Heart Stage achievement release a balloon with a semicolon drawn on it. She hopes to help people across the globe with issues similar to hers by advocating this special movement. Already, Zoe has expanded The Semicolon Project to the Eagle Village community through her passion and commitment to helping others. Matthew Wills, Co-Founder and Managing Director of The Semicolon Project, commented, "We were over the moon and touched by her story."
Cathey Prudhomme, President/CEO of Eagle Village shared, "Heart Stage presentations are some of my most favorite times. These young men and women bare their souls to show where they have come from then their faces light up as they begin to describe their accomplishments and what their goals are. I love to see how proud they are of themselves for how much they have achieved and how excited they are for their futures."
The Semicolon Project invites both children and adults suffering from mental health issues to seek help and find hope, while working to eliminate stigmas surrounding mental health. The semicolon importantly symbolizes the decision to not give up on life. For more information about The Semicolon Project, visit http://www.projectsemicolon.org.
Eagle Village is a non-profit family treatment center providing Intervention Services and Camps, Residential Treatment, Foster Care and Adoption services for all counties in Michigan. If you know of a family in crisis that may benefit from these programs contact Eagle Village at 231-832-2234 - http://www.eaglevillage.org.