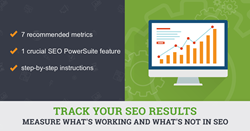 To estimate the effectiveness of an SEO campaign correctly, it helps to know which performance indicators are of prime importance.
(PRWEB) July 09, 2014
To estimate the effectiveness of an SEO campaign correctly, it helps to know which performance indicators are of prime importance. Otherwise, one risks missing some factors that could be affecting their bottom-line – the profit.
The just-released online SEO guide by Link-Assistant.Com teaches just that: it covers top 7 metrics to focus on in an SEO campaign, provides practical tips on tracking them, and shows how one can easily see the interplay of factors, using the Events module available in the company's SEO PowerSuite toolset.
The Events feature allows one to enter the information about their SEO activities to SEO PowerSuite by hand, and their markings (e.g., "new blog post published" or "Google's Panda algorithm refreshed") then appear on progress graphs and charts within the software.
7 Key SEO Metrics
According to Link-Assistant, the 7 metrics one should pay particular attention to are:
1. Keyword rankings. This metric is the most obvious indicator of an SEO campaign's progress. And, to track it the correct way, it's advisable to set language and location relevant to one's target audience.
2. Organic search traffic. A surge in "organic" (non-paid) search traffic to a site is often another indicator of an SEO campaign done right.
3. Incoming links. Incoming links normally help a site perform better in search engines. However, after recent Google algorithm updates, it's also important to detect spammy links that may be pointing to a web property.
4. Pages in search engine index. It is important to make sure that your site's top pages are indexed in the search engines. A page being absent from index could mean a penalty or another discrepancy in one's SEO campaign.
5. Social signals for a page. Popular, high-ranking pages usually get a lot of social endorsement. When one sees that a page with a big number of Facebook likes, tweets, and other social signals, it often means the page is likely to get more traffic and one could expect higher conversions.
6. Conversion rates. The conversion rate reflects the percentage of website visitors that take action on one's site (make a purchase, sign up for newsletter, etc.).
7. Return on investment. Link-Assistant.Com's SEO metrics guide also covers 3 reasons one could get poor return on investment or lose money with their SEO campaign. There is more detail provided about this at http://www.link-assistant.com/news/key-google-updates.html.
The Events Module
The Events module in Link-Assistant.Com's SEO PowerSuite toolkit comes really handy when one needs to see how their SEO metrics relate to the changes one implements to their site or to major Google updates.
About Link-Assistant.Com:
Link-Assistant.Com is a software developer with almost 10 years of experience providing industry-leading SEO tools for bloggers, SEO consultants, and Internet marketing agencies. The provider's best-loved toolset, SEO PowerSuite, is currently used by more than 500,000 people worldwide who rely on it for technology-driven SEO process and remarkable SEO results.
Keep abreast of the SEO niche – follow Link-Assistant.Com on Facebook fb.me/LinkAssistant, Twitter @LinkAssistant or Google Plus gplus.to/LinkAssistant.