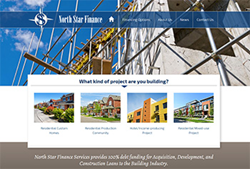 Atlanta, GA (PRWEB) July 09, 2014
mRELEVANCE, LLC is excited to announce the launch of North Star Finance's new website. The Maryland commercial installment lender came to mRELEVANCE with five goals:
1. To provide builders with guideline procedures so they could educate themselves on the loan product
2. To facilitate the loan process
3. To have a user-friendly interface
4. To feature case studies of successes and testimonials
5. To put a face on its program and show information about its team
The updated website promotes North Star Finance's "$10M" program. This program features four types of loans for four different audiences – Residential Custom Homes, Residential Production Community, Hotel/Income-Producing Project and Residential Mixed-Use Project. Each of these loan types is then divided into less than $10 million or more than $10 million.
"The new website makes starting the loan process a lot more organized, allowing users to begin applying for a loan in just a few clicks," explained managing partner of mRELEVANCE, Mitch Levinson. "This is largely atypical in finance, and works to distinguish North Star Finance from its competitors."
Builders will enjoy using this website because they can get all the information about the "$10M" program very quickly. After applying for a loan, they will receive a follow-up within 24 to 48 hours – a fast response rate for a financial company. This aligns with North Star Finance's desire to get users the information they need and provide them a contact to start the loan process.
The combination of clean simplicity and quick supply of information makes North Star Finance a standout in its field. The company's new website is expected to boost involvement in the "$10M" program and to re-define financial relationships.
About Marketing RELEVANCE: mRELEVANCE, LLC creates relevant marketing and communications that reach audiences with focused and strategic messages. Through technology and creative content, messages are delivered to target markets to encourage customer action and interaction.
With offices in Atlanta and Chicago, mRELEVANCE can connect your company with buyers and build relevant relationships nationwide. For more information, visit http://www.MarketingRELEVANCE.com, Like us on Facebook at http://www.Facebook.com/mRELEVANCE, Follow us on Twitter at @mRELEVANCE or call 770-383-3360 or 847-259-7312.