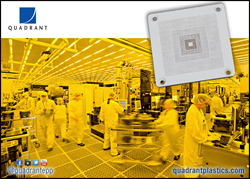 We are constantly focusing on the key issues driving the future of the semiconductor manufacturing markets and creating solutions to fill the performance gap left by traditional materials
Reading, PA (PRWEB) July 08, 2014
Quadrant Engineering Plastic Products (EPP), the global leader of machinable plastics and stock shapes, visits the Semicon West 2014 trade show on July 8-10, 2014 with its innovative family of engineering plastic materials aimed at advancing the semiconductor and electronics industries. Quadrant's materials are ideal for wet and dry semiconductor processing applications, delivering industry-leading longevity while decreasing overall production costs.
The expansion of mobile devices has led to an increased demand in smaller, smarter, and lower-powered devices. Quadrant is positioned to handle the decrease in IC chip size with its uniquely formulated portfolio of materials for the semiconductor and electronics industries. "Following the jump from 130nm devices in 2000 we're now developing and distributing proprietary materials designed to excel in 22nm devices. In addition to device manufacture, many of these materials are ideal for specific environments where wear-resistance, chemical-resistance, and the management of static electricity are required," said Scott Williams, Global Market Segment Manager at Quadrant EPP. A material such as Quadrant's Semitron® MDS 100 exhibits extraordinarily low moisture absorption and extremely low CLTE allowing for excellent dimensional stability, making it ideal for compact devices.
According to Williams, "We are constantly focusing on the key issues driving the future of the semiconductor manufacturing markets and creating solutions to fill the performance gap left by traditional materials." Quadrant's materials, such as Symalit® ECTFE, have proven to be the leader in innovation for the semiconductor industry, offering superior corrosion and heat resistance in semiconductor applications.
Quadrant will also be featuring its breakthrough material Semitron® MPR1000, specifically developed for the most severe vacuum chamber conditions. "Our exclusive formulation makes Semitron® MPR1000 the ideal material for semiconductor production. Its longevity is 25 times greater than traditional materials, less expensive than ceramics, survives aggressive plasma chemistries, and is ultra clean in nature," says Williams.
Quadrant's other featured material families include Semitron® MP370, boasting a higher melting point allowing for cleaner-thru-hole machining; Techtron® PPS, with its proven success record in retaining rings and chip nest applications; and Ketron® PEEK, offering chemical and hydrolysis resistance that operates at extreme temperatures. See the industry's most innovative and broad family of materials for yourself at Semicon West 2014, booth #2119, in the South Hall of Moscone Center in San Francisco, CA from July 8-10, 2014. Application specialists and technical experts from Quadrant will be on-hand to answer questions relating to their products and to provide expert guidance for engineering and application solutions.
About Quadrant Engineering Plastic Products:
For over 70 years, Quadrant Engineering Plastic Products (EPP) has been proving there is simply no substitute for quality, innovation and distinction. Quadrant EPP is the global leader of high-performance engineering plastics that are used for machined parts in food processing and packaging, semiconductor manufacturing, aerospace, electronics, chemical processing, life sciences, power generation and diverse industrial equipment. Their superior products range from UHMW polyethylene, nylon, and acetal to ultra-high performance polymers that resist temperatures to over 800°F (425°C).
With a rich history as a company who pioneered machinable plastics, Quadrant is backed by a global team of application development and technical service engineers who specialize in evaluating designs and machining parts. Products and services are available through a worldwide network of branch offices, technical support centers, and authorized dealers.Connect with Quadrant, "quadrantepp," on Facebook, YouTube, Google+ and Twitter.
Registered trademarks of the Quadrant group of companies: Acetron®, CleanStat®, Duraspin®, Duratron®, Erta®, Ertalyte®, Ertalene®, Ertalon®, Extreme Materials®, Fluorosint®, Ketron®, MC®, Monocast®, Nylatron®, Nylasteel®, Polypenco®, Proteus®, Sanalite®, Semitron®, Techtron®, TIVAR® and Vibratuf®.