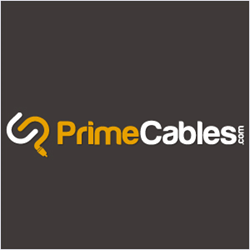 Montreal, Quebec (PRWEB) July 14, 2014
PrimeCables.com, wholesaler and a retailer of custom cables and accessories for home theater, networking, professional studios and more, has announced the immediate availability of a new range of Cat7 networking cables. The company is also offering many more cable tester tools to help DIY customers with specific requirements looking for custom length cables.
Cat 7 is a cable standard for Ethernet and other interconnect technologies, and is still backward compatible with previous categories of networking (Cat 5, Cat 5e, Cat 6). Available in various lengths of 1, 3, 6, 10, 15, 30, 40, 50, 75, and 100 ft., these twisted (S/STP) network cables are shielded and support frequencies up to 600 Mhz. The entire range of cables with prices starting at $2.29 is available here http://www.primecables.com/topics/111-cat7-networking-cable-
The Cat7 S/STP patch cable From PrimeCables.com offers the best-in-class Ethernet connection for various applications. Screened Shielded Twist Pairing (S/STP) design and gold plated connectors confidently protect the cable from external Electro-Magnetic Interference (EMI) for optimized signal quality.
A durable blue jacket that easily color-codes the cable runs as needed, while providing rugged flexibility for network connection. For long lasting performance, the cable features strain relief to prevent the RJ-45 connector from being bent at sharp angle, and snagless design to eliminate the hassle of catching or hooking on things when you have to pull the cable a long way.
These network cables can be used for 1000Base-TX, 100Base-T & 10Base-T networking, and Cat-7a cables can go up to 10Gbase-T (10-Gigabit Ethernet). As a company that specializes in HDMI Cables and other Audio Video Accessories, PrimeCables.com aims to makes online shopping for cable accessories fun and easier to handle.
About PrimeCables.com:
PrimeCables.com specializes in HDMI Cables and other Audio Video Accessories. They offer a variety of products such as Network Cat 5, Cat 6 & Cat7, HDMI, SVGA, DVI, USB, FireWire, Fiber Optic, Security, Computer, Apple, and Audio cables, as well as Speakers, Cable Testers and Organizers, and wall plates. They deliver remanufactured cables, adapters, USB cables, and cable accessories from both their Montreal and Vancouver warehouses.