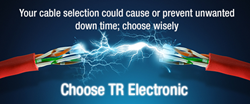 Troy, Michigan (PRWEB) July 15, 2014
Know your physical requirements.
Does your application call for a fixed cable or does it require the cable to twist, bend or flex during operation?
Continuous flex cable is needed when the cable is flexing in a linear motion, such as a festoon or cable track system. The individual conductors, in a continuous flex cable, are arranged in a helical-concentric-layered configuration with each layers conductor-lay opposite to the next.
Twist or Torsional flex cable is needed when the cable is twisting in a radial motion, similar to wringing out a wash cloth. The individual conductors are arranged in a helical-concentric-layered configuration with each layers conductor-lay matching the next.
Know your environmental requirements.
Is the environment dry or is there water, oil or cutting fluid present?
PVC Cable is a standard cable sheath material in the controls industry. Its lower relative cost and overall resistance to most chemicals makes it a popular choice.
PUR Cable is needed when the cable will be exposed to oils and cutting fluid. This makes it the standard choice for the milling, grinding or roll forming industries. PUR also offers exceptional wear resistance.
Electro-Magnetic Interference and Ground Potential Equalization. This is a very complicated and scientific subject; however, there are some basic rules of thumb that you can follow to keep you up and running:
1. Best practice is to maintain your cable shield between the device (encoder) and the control panel. That is assuming that you are sure that your machine is well grounded and Potential Equalization cables are in place. It is imperative to avoid potential shift/offset between the electrical cabinet and the encoder housing via the encoder cable shield.
2. If you are not sure about your grounding situation, its best to only connect your shield at the panel end.
Twisted Pairs - If your device is capable of outputting a differential signal and and your interface card is capable of receiving a differential signal; use it and do so using twisted pair cabling. The idea is to minimize or eliminate induced crosstalk along the transmission path.
We have what you need - TR Electronic stocks miles of various encoder cables as well as many different connectivity solutions for encoders and sensors.
Having been an encoder guy for 10 years now, I can certainly tell you that I have had my fair share of urgent "Line Down" requests for help. Many of these system failures are caused by faulty or improperly selected cables.