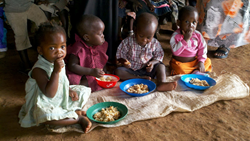 Raleigh, NC (PRWEB) July 08, 2014
Stop Hunger Now has opened its popular and effective meal packaging program in Manila, Philippines, to provide local residents a hands-on way to help end hunger in the Philippines. Stop Hunger Now meal packaging events are a volunteer-based program that coordinates the streamlined packaging of highly nutritious dehydrated meals comprised of rice, soy, vegetables, flavoring, and 21 essential vitamins and minerals.
Stop Hunger Now has been working in the Philippines since 2008, delivering more than 5.5 million meals from the US and packaging more than 500,000 meals locally. With this new office location in Manila, Stop Hunger Now will be able to package millions more meals to benefit local Pilipino feeding programs. These programs consist of schools, orphanages, medical clinics, and vocational training programs. Meals will also be readily available for natural disasters such as super Typhoon Haiyan.
"In the meal packaging events so far conducted, hearts are connected between the poor, the not-so-poor and even the rich," says Ronaldo Calayan, Stop Hunger Now Philippines President. "Every toothy smile from kids, tight hugs from adults and words that warm the heart coming from those Stop Hunger Now Philippines has served urge us to go on. We eschew wealth for health since the good lives after us to be followed by our children."
Around the world, more than 868 million people lack adequate food and more than 25,000 die each day from hunger-related illnesses. Stop Hunger Now operates meal packaging locations in 17 cities throughout the U.S. and international locations in South Africa, Malaysia, and Italy. More than 450,000 volunteers from corporations, religious communities, schools and civic organizations have packaged Stop Hunger Now meals.
Groups of all sizes and ages can organize a meal packaging event with Stop Hunger Now to assemble meals consisting of rice, soy, dehydrated, vegetables, and vitamins that are used to support development programs such as school feeding programs, vocational training programs, early childhood development programs, orphanages, and medical clinics. Working with these programs helps enhance lives by giving beneficiaries the opportunity to break the cycle of poverty through education, skills development, and health care while also receiving much needed nutrition.
"What we want everyone to know is that hunger is solvable and is the common thread among the world's most challenging issues. When hunger is targeted, you give leverage and hope to every other cause including poverty, disease, education and the welfare of women and children," said Rod Brooks, President and CEO of Stop Hunger Now.
For more information on Stop Hunger Now Philippines, contact Andrew Sullivan at +1 (215) 990-6958.
For more than 15 years, Stop Hunger Now has been creating a movement to end hunger. More than 100,000,000 meals have been packaged and distributed along with other aid to 65 countries impacting millions of lives. The organization is driven by a mission to end hunger in our lifetime by providing food and life-saving aid to the world's most vulnerable and by creating a global commitment to mobilize the necessary resources.
The Stop Hunger Now meal packaging program was created to give dedicated individuals the opportunity to participate in a hands-on international hunger relief program and to become educated, engaged advocates for the world's poor and hungry. In 2013, Stop Hunger Now packaged 38.6 million meals in the U.S. and International Affiliates packaged an additional 3.3 million meals.
In its efforts to respond to emergency needs around the world Stop Hunger Now receives and distributes significant donations of in-kind aid. These donations are large quantities of food, medicines, medical supplies and other such items as may be of use in fighting hunger and providing relief in a crisis.