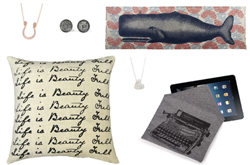 I set out to build the site I was hoping to find as a shopper.
Boston, Mass. (PRWEB) July 10, 2014
Former Wayfair executive and Amazon alumna, Kim Edwards, is branching out on her own with the July 21st launch of online boutique Step. & Lizzie (http://www.stepandlizzie.com). The site celebrates craftsmanship throughout its broad range of categories including Jewelry, Scarves, iPad Cases, Stationery, Throw Pillows, Vintage Signs, Bath, and Kitchen. It breaks away from the standard mass assortment of big retailers by combining the charm, individuality, and quality of an old-time Main Street boutique with today's modern sensibility.
Edwards' 10 years of training at top retail companies paired with her passion for finding just the right items gives her the experience needed to take on this new endeavor. Step. & Lizzie began with a desire to create a more personal customer experience for online shoppers. "As a customer who loves shopping for home décor and accessories, I had a hard time navigating through the larger sites to find the style and quality I wanted," Edwards said. "The sites that did have smaller assortments, primarily carried the larger brand names, which felt less special to me. I set out to build the site I was hoping to find as a shopper."
Step. & Lizzie has a thoughtful assortment of heirloom-quality personal accessories and home décor. There is something truly special about each piece. Items have unique prints, novel production processes, or are created using handmade materials. Each page on the site shares the story of the artisan who developed the item, giving the customer a behind-the-scenes pass to the artist's studio. The project is personal for Edwards who named the business after her ancestors, Stephen and Elizabeth Hopkins, who came to America on the Mayflower.
In addition to launching its own storefront, Step. & Lizzie will be an early vendor on the new shopping platform, 11 Main, which is currently in beta. 11 Main is intended to be the main street of the internet, featuring a diverse group of online boutique shops. It is backed by parent company, Alibaba Group, the largest online and mobile commerce company in the world. "We are excited to be selected as early entrants on this new platform that will be influential in shaping the future of US ecommerce," said Edwards.
To celebrate its opening, Step. & Lizzie will offer a 20% discount on orders of $75 or more on the day of its launch, July 21, 2014. For more information, please visit http://www.stepandlizzie.com. Follow Step. & Lizzie on Facebook, Twitter, Google Plus, Instagram, or Pinterest using the handle stepandlizzie.