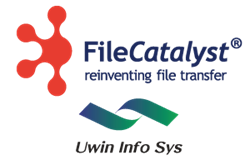 FileCatalyst technology... speeds up our file based workflows while keeping them secure.
Ottawa, Canada (PRWEB) July 10, 2014
Unlimi-Tech Software, Inc., a pioneer in managed file transfers and the creator of FileCatalyst, a world leading accelerated file transfer solution, is pleased to announce Samsung Broadcasting Center (SBC) has selected Uwin Info Sys integrated with FileCatalyst as its media asset management solution.
Based in Seoul, Uwin Info Sys is a leading provider of file-based workflow software solutions to broadcast, media, and archive industries. Uwin Info Sys is proud to announce the use of their media asset management solution by Samsung Broadcasting Center (SBC).
As part of the project, SBC required a number of components, including media asset management and accelerated file transfer.
As an integrated partner, FileCatalyst's patent pending UDP-based file transfer software had already been integrated within Uwin Info Sys's asset management and workflow engine. FileCatalyst technology enables accelerated file transfers at rates up to 10 Gbps and thousands of times faster than traditional methods. FileCatalyst web applets were integrated as well to allow accelerated, managed, and secure file uploads from any web browser.
Delivering these features to SBC within the Uwin products allows SBC to benefit from the acceleration and ensures secure and reliable delivery of all its digital content.
"Integrating FileCatalyst technology within our archive system speeds up our file based workflows while keeping them secure," said SBC's technical director, Kyungwon Joe.
"FileCatalyst's accelerated file transfer solution integrates really well with our solutions," said SungUk Bae, CTO at Uwin Info Sys. "When Samsung Broadcasting Center approached us with their requirements, we knew we would be able to offer a leading edge solution; we are confident not only in our product but in the partner solutions we integrate. FileCatalyst has been great to work with and clearly Samsung is in agreement."
"It's incredibly rewarding to see our software become a vital component in partner products, and to hear about the results achieved not only by the partner but also their end customers," said Unlimi-Tech's Vice President of Business Development, Alan Atkinson.
About Unlimi-Tech Software, Inc.
Located in Ottawa, Canada, Unlimi-Tech Software is the creator of FileCatalyst, a world leading accelerated file transfer solution. Founded in 2000, the company has more than a thousand customers in media & entertainment, energy & mining, gaming, and printing, including many Fortune 500 companies as well as military and government organizations. FileCatalyst is a software platform designed to accelerate and manage file transfers securely and reliably. FileCatalyst is immune to the effects that latency and packet loss have on traditional file transfer methods like FTP, HTTP, or CIFS. Global organizations use FileCatalyst to solve issues related to file transfer, including content distribution, file sharing, and offsite backups. To learn more visit http://www.filecatalyst.com or @FileCatalyst on Twitter.
About Samsung Broadcasting Centre
For over 70 years, Samsung has been dedicated to making a better world through diverse businesses that today span advanced technology, semiconductors, skyscraper and plant construction, petrochemicals, fashion, medicine, finance, hotels, and more. Our flagship company, Samsung Electronics, leads the global market in high-tech electronics manufacturing and digital media. Through innovative, reliable products and services; talented people; a responsible approach to business and global citizenship; and collaboration with our partners and customers, Samsung is taking the world in imaginative new directions. For more info, visit http://www.samsung.com/us.
About Uwin Info Sys
Located in Seoul, South Korea and founded in 1998, Uwin Info Sys is a leader in the field of digital media management and broadcasting technology. Uwin Info Sys provides file-based production workflow and NRCS for newsrooms. Uwin Info Sys' MAM solution is the core of their solutions, designed to streamline the workflow of content creation, distribution, archive, and automation. For more info, visit http://www.uwin.co.kr.