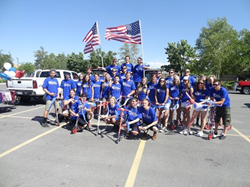 Salt Lake City, Utah (PRWEB) July 09, 2014
On July 10-12, members of the non-profit group, Razor Crusaders, will embark on a world-record, kick scooter ride for diabetes awareness. The Razor Crusaders' "Ride for Diabetes" will start in St. George and will finish at Davis High School in Kaysville. The 24-member group will cover the 380 mile world-record distance across the entire state of Utah in a relay format over the course of three days.
"We hope that this ride will individually touch lives," said Connor Moody, Razor Crusader co-founder. "In some way, many people are affected by diabetes, and we feel that the only way to find a cure and improve lives is to give back."
The Razor Crusaders' Ride for Diabetes will not only set a world record, but will be a major contributor to the fight against diabetes. The Crusaders have already raised over $25,000 for diabetes research through a benefits concert held in June at Orem High School, a live IndieGoGo campaign, and other private donations.
The Ride for Diabetes has already been backed by 19 major sponsors, including American Diabetes Association, Razor USA, Utah First Credit Union, Contour, Jack Link's Beef Jerky, DipSum, Letterman Watches, and many other generous sponsors.
"The support we have already received is simply amazing," said Moody. "This ride wouldn't be possible without our sponsors and supporters."
Although the focus of the Crusaders' ride will be diabetes awareness, they will dedicate their ride to their lost friend and brother, Clayton Jenkins. As a type 1 diabetic, Jenkins co-founded the Razor Crusaders in 2008 with the dream to one day cure diabetes. In 2012, Jenkins unexpectedly passed away at the young age of 22.
"This ride is not only to raise diabetes awareness within our communities, but to remember our best friend, Clayton," said Moody. "We love Clayton, we miss him, and with this ride, we'll always remember him."
For more information about the Razor Crusaders and their Ride for Diabetes, please visit the Razor Crusader Facebook page.