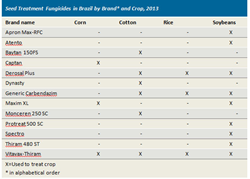 (PRWEB UK) 8 July 2014
Agribusiness represents 20% of the Brazilian GDP. One of the factors contributing to the continuing strength of Brazil in the growing global grain market is the rapid adoption of high value seeds. With Brazilian grain production narrowly focused on maize and soybeans, virtually every seed gets treated, often more than once before it is planted. Kline & Company estimates that nearly 45 million hectares planted received a seed treatment in 2013 in the Brazil chapter of the Global Seed Treatment: Market Analysis and Opportunities report. With multiple treatments and crops added, such as rice and cotton, as many as 81 million hectare treatments were made to seeds in 2013.
The total seed treatment market is over USD 600 million in 2013. In terms of seed treatment fungicides, the main fungicide on a hectare treated basis is Maxim XL.
The leading insecticide seed treatment products in Brazil in terms of hectares treated are Cropstar and Standak Top.
BASF, Bayer, and Syngenta are the three leading suppliers in Brazil for the seed treatment market. FMC, Chemtura, Rotam, Arysta, Inharabras, and Mileniacluded are also among the major suppliers of seed treatment products.
Kline's chapter on Brazil of the global seed treatment market research is a detailed analysis of the Brazilian seed treatment market in 2013 covering the following topics:

Crop background and planted acres
Crop end use by acres or volume
Production and crop protection methods
Key seed suppliers and their product capability with treatment
Role of seed treatment as crop protection method
Key diseases, insects, nematodes, and other reasons seeds are treated; regional differences within countries when appropriate
Chemical treatment methods for target diseases and insects and non-chemical alternatives
Product sales and market share for seed treatment products
Active ingredient use for seed treatment products
Sales by company for seed treatment products
Seed treatment outlook and assumptions by crop background
About Kline & Company
Kline is a worldwide consulting and research firm dedicated to providing the kind of insight and knowledge that helps companies find a clear path to success. The firm has served the management consulting and market research needs of organizations in the chemicals, materials, energy, life sciences, and consumer products industries for over 50 years. For more information, visit http://www.KlineGroup.com.