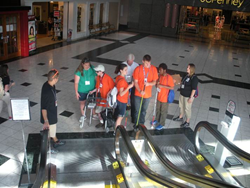 "A lot of these kids have been told, 'You can't participate in gym. You can't participate in chemistry. You can't, you can't, you can't. This is a life-changing event."
University Park, PA (PRWEB) July 10, 2014
Imagine venturing across a high-ropes course for the first time, balancing on cables two stories above the ground. Now imagine doing it if you were blind.
A high-ropes course is just one of many challenges on tap this summer for students participating in the Summer Academy, a program for high school students who are blind or visually impaired that will be held at Penn State for the first time this summer. The three-week program runs from July 13-Aug. 1 and is free for qualifying students. Students will live in Penn State dorm rooms.
The program is aimed at strengthening students' independence and self-advocacy skills to help them succeed in college or technical school. "We want to prepare them so they can go to college and go to work," said David De Notaris, director of the Bureau of Blindness and Visual Services in the state Office of Vocational Rehabilitation, which runs the program.
Workshops and a technology showcase will introduce students to an array of assistive technologies, from talking clocks and kitchen timers to talking software and screen readers. Students will receive iPads or mini iPads with apps designed specifically for users with visual loss.
Students will take part in canoeing, rock wall climbing and the high ropes course at Penn State's Shaver's Creek Environmental Center. "A lot of these kids have been told, 'You can't participate in gym. You can't participate in chemistry. You can't, you can't, you can't," said De Notaris. "This is a life-changing event."
There also will be career discussions and a chance to improve daily living skills such as navigating with a cane on- and off-campus, using a laundromat, shopping for groceries, cooking meals (in Penn State's food labs), and balancing a checkbook.
Briana Magistro, a former student who is now a resident assistant, said students will master challenges like carrying a cafeteria tray and a cane at the same time. In high school, aides can carry your lunch tray and books, said Magistro, a senior at East Stroudsburg University. "But once you get to college there's nobody there doing that for you. It's the start of your adult life."
The three-week schedule includes traditional activities such as swimming at Greenwood Furnace State Park and dances, as well as the chance to attend Penn State summer school classes, where they will be able to try out assistive technology.
The Summer Academy announced in April it was relocating to the University Park campus after five years at the Hiram G. Andrews Center in Johnstown. The Academy is run by the state Office of Vocational Rehabilitation's Bureau of Blindness and Visual Services in partnership with the Pennsylvania Department of Education, Bureau of Special Education Training and Technical Assistance Network and Penn State's College of Education and College of Health and Human Development, in conjunction with Penn State Conferences and Institutes.
Other upcoming camps run by Penn State Outreach and Online Education this summer include:
Architecture & Landscape Architecture Camp from July 13-17
Visual Arts Camp from July 13-19