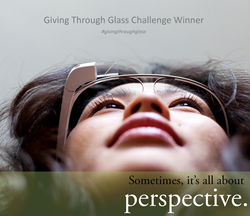 It's very gratifying to be recognized by Google for our innovative spirit.
Baltimore, MD (PRWEB) July 09, 2014
The Hearing and Speech Agency (HASA) is one of five winners of Google's Giving Through Glass program to make an impact on their cause.
HASA will use Glass to explore, develop and pilot new ways to help individuals who have communication difficulties and to support those who teach and care for them in community, therapeutic and educational settings. The project's goal is to improve communication access for people who have speech-language challenges, hearing loss and autism. HASA anticipates that Glass will provide the means for an increase in both the quality and quantity of services available to individuals in the Baltimore area and beyond.
Asked about the project, Executive Director Susan Glasgow stated, "It's very gratifying to be recognized by Google for our innovative spirit and we look forward to using Glass in the year ahead."
Google chose the five winners for the Giving Through Glass challenge from more than 1,300 applications. HASA is joined alongside 3,000 Miles to a Cure, Classroom Champions, Mark Morris Dance Group and Women's Audio Mission; projects were selected based on four key criteria: impact, innovation, feasibility and implementation.
Winners receive Glass, a $25,000 grant, a trip to Google for training, and access to Glass software developers to partner on their projects.
ABOUT THE HEARING AND SPEECH AGENCY
The Hearing and Speech Agency provides professional services for people who have speech or language disorders, autism, deafness or communication disabilities. Last year, more than 4,000 families throughout Greater Baltimore benefited from HASA's services, which range from speech therapy and audiology to special education programming and American Sign Language interpreting for the deaf and hard of hearing.