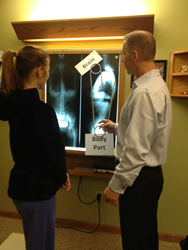 People see a doctor when they are sick, when they have reached a crisis. We want to change that because that is sick care, not health care
IN (PRWEB) July 10, 2014
Health care isn't really health care these days, according to Dr. Mark Heal. "People see a doctor when they are sick, when they have reached a crisis. We want to change that because that is sick care, not health care."
To help make this shift, Heal provides wellness talks to businesses and organizations with donations going to a non-profit charity, Health Missions, which provides natural health care to the under-privileged and also funds natural health care research. The talks, ranging from 10 minutes to one hour, focus on wellness topics.
"I haven't taken an over-the-counter or prescribed medication for nearly 20 years and I want to show people how it is possible to be proactive and address health issues naturally," Heal said. "The information my team and I present is solid and practical to that you have things you can start doing right away.
"My goal, however, is not just to present the information, but to also spur people to action. This is the only way we can truly make a shift in health care...and that is to focus on health."
As the owner of three AlignLife Chiropractic & Natural Health Care Clinics in Northwest Indiana, Heal has a doctorate of chiropractic degree from Palmer College of Chiropractic as well as training in nutrition. He also teaches chiropractic technique internationally to students and doctors.
About AlignLife
AlignLife is a chiropractic and natural health franchise founded in 2007 with the mission to provide the highest quality of natural healthcare services to communities around the nation. The integration of chiropractic with other natural health services has proven to save time and money while reducing the hassles of dealing with the complex American health care system. AlignLife is operated by founder and CEO, Dr. Joseph Esposito and President, Dr. Cristina Esposito. There are currently 25 AlignLife locations within six states around the nation and expansion plans are to have 50 locations by the end of 2014. For more information or to find a clinic new you go to http://AlignLife.com.