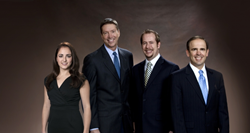 San Antonio, Texas (PRWEB) July 08, 2014
Two Crosley Law Firm, P.C., attorneys were selected for inclusion in S.A. Scene's "Best Lawyers of 2014" list. Every year, S.A. Scene magazine surveys qualified area lawyers to determine whom the law community would refer as the best lawyers in San Antonio in different practice categories. The final list contains over 70 different practice areas. Crosley Law Firm attorneys Thomas Andrew Crosley and R. Andrew Rodriguez were recognized in the following categories:
-Personal Injury: Plaintiffs (General) 15+ years
-Medical Malpractice: Plaintiff
-Personal Injury: Plaintiff (Product Liability)
Thomas A. Crosley is a well-known personal injury trial lawyer, head of the Crosley Law Firm, and board certified in personal injury trial law by the Texas Board of Legal Specialization. He has been named a "Texas Super Lawyer" in 2004 and every year from 2006-2014 by Thomson Reuters, as published in Texas Monthly.
R. Andrew "Andy" Rodriguez is a respected lawyer with extensive experience representing clients in personal injury, wrongful death, and medical malpractice cases. Mr. Rodriguez has received recognition as one of San Antonio's best lawyers in 2007, 2009, 2011, 2012, and 2013 in addition to this year.
Crosley Law Firm, P.C. is a professional corporation of trial lawyers focused on representing serious personal injury and wrongful death cases. They take a keen personal interest in every client and strive to obtain the best legal outcome in each case. They are a four-attorney law firm headquartered in San Antonio, Texas with offices in Houston and the Rio Grande Valley.
The complete list appears in the June 2014 edition of S.A Scene magazine.