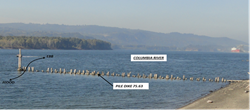 The new dredging technique is credited for environmental and economic benefits for the Port of Kalama and its community.
Kalama, Washington (PRWEB) July 08, 2014
The Western Dredging Association (WEDA) has awarded the Port of Kalama with the top 2014 Environmental Excellence Award in the navigation dredging category. The Port was recognized with the top honor for the TEMCO Berth Maintenance Dredging and In-water Flow-lane Placement project.
The Port of Kalama was recognized for using an innovative new 'scour hole placement' technique on the award-winning TEMCO project. In 2013, the Port successfully placed 189,000 cubic yards of dredge material near two pile dikes in the Columbia River. This method places dredge material back in the river to maintain natural river processes and protect the pile dikes. In addition, the dredging and disposal costs were 65% less than dredging costs in 2012.
The Port designed the dredging project with input and support from local, state, and federal agencies as well as collaboration with Coast and Harbor Engineering, BergerABAM and HME Construction. The new dredging technique is credited for environmental and economic benefits for the Port of Kalama and its community. Environmentally, the project minimizes erosion while restoring conditions for shallow water habitat for fish. This innovative dredge method is transferable to other dredging sites.
The WEDA Environmental Excellence Awards were announced June 17 at the organization's annual conference in Toronto. Visit WEDA for additional information on the awards.
About Port of Kalama – Where rail and water meet:
The Port of Kalama is located in Southwest Washington on the Columbia River and immediately off of Interstate Highway 5. The port exists to induce capital investment in an environmentally responsible manner to create jobs and to enhance public recreational opportunities. Port of Kalama's industrial area includes five miles of riverfront property adjacent to the 43' federally-maintained deep draft navigation channel of the Columbia River. The Port is served by the Burlington Northern/Santa Fe and Union Pacific railroads. There are over 20 industries located at the Port of Kalama, employing over 830 people. Port of Kalama offers all the superior facilities businesses need to thrive, and an unsurpassed quality of life. The port offers shovel ready sites, a new Industrial Park, state of the art Marine Terminals and transportation accessibility to rail and highway all just a 30 minute drive to the Portland International Airport. Port of Kalama also offers high-bandwidth communications, with dual access fiber-optic service to Seattle and Portland. Properties currently available at the port for businesses wishing to expand and thrive: visit http://portofkalama.com/industrial_property.
Contact: Claudia Johnson, Strategic Communications, 503-799-2220/cell