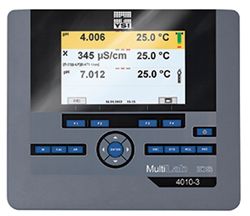 Vernon Hills, IL (PRWEB) July 09, 2014
It's now easier than ever to get the convenience of multifunctionality in a water quality meter. The "plug-and-play" feature of the new YSI® MultiLab DO/BOD Benchtop Meter Kits from Cole-Parmer lets users exchange sensors for optical dissolved oxygen, biochemical oxygen demand (BOD), and pH measurements, as well as operate it as a conductivity meter.
For water and wastewater applications, and quality control for the food & beverage, pharmaceutical, and chemicals industries, the Smart Meter Technology offers several advantages. It complies with US EPA regulations by meeting approved methods for dissolved oxygen and BOD. With highly accurate measurements, it displays readings in large graphics on an easy-on-the-eyes backlit screen. Manual and automatic data logging has GLP traceability. The CMC function continually monitors the sensors, measuring range against calibration range. The sensors digitally store their serial number, unique ID, and calibration data, and transfer this data when moved.
Select from the single-channel meter, two-channel meter, or three-channel meter. To view the YSI MultiLab DO/BOD Benchtop Meter Kits, go to ColeParmer.com/21038 or for more information, call 800-323-4340.
Cole-Parmer has been a leading global source of laboratory and industrial fluid handling products, instrumentation, equipment, and supplies since 1955. Our product lines, including popular brand names such as Masterflex®, Oakton®, Digi-Sense™ and more, are sold through company-owned customer channel outlets and a strong network of international dealers. We also feature an ISO17025-accredited metrology lab for instrument calibration and repair. Cole-Parmer responds with excellence to customer needs, and offers application expertise and technical support. For more information, contact Cole-Parmer, 625 East Bunker Court, Vernon Hills, IL 60061. In the US, call 800-323-4340. International customers, call 847-549-7600. Visit us at ColeParmer.com.