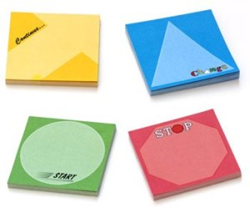 Use simple tools, such as Sticky Notes, to vet feelings and problems in an organized way.
Natick, MA (PRWEB) July 09, 2014
Those who are conflict-averse hate difficult conversations. It's no wonder that experts have started calling them "Courageous Conversations." Conversations take courage when participants are uncertain about how others will react, are scared of it getting out of control, concerned about opening a can of worms with no solution, and afraid of making things worse.
Most are not skilled facilitators with a repertoire of techniques for dealing with group problems, and most don't have time to read a battery of self-help books. It doesn't need to be that hard because the truth is, everyone who is sad, mad, or frustrated shares a common goal: to make it better.
To help managers and team leaders embrace these difficult conversations, Office Oxygen, a new company that develops products to promote engagement and teamwork at work, developed Sad-Mad-Glad Sticky Notes.
Susan Landay, Founder and President of Office Oxygen explains, "These conversations are not as scary if you stick to some tried and true techniques, and use simple tools, such as Sticky Notes to vet feelings and problems in an organized way." Landay suggests starting with ground rules, such as: not talking over each other; focusing on the problem, not the person; speaking for yourself, not for others; and demonstrating that you've heard contrary points of view.
Tools for Effective Conversations
Once the ground rules are established, facilitators should use a structured technique to frame the conversation rather than having a "free-for-all bitch and moan" session. To keep emotions from getting out of control, Landay recommends three tools:
1) Sad – Mad – Glad
For more productive teamwork, this set of notes can help groups clear the air and discuss the "elephant in the room" so they can "move toward mutual understanding, new solutions, and greater productivity," says Landay.
"Put a few SAD, MAD, and GLAD sticky notes on each table. Have individuals think about what work issues make them sad, glad, and mad, and put one thought on each note. When they are ready, have them come forward and post their notes on a wall or board at the front of the room. The facilitator can begin grouping similar sentiments so the group as a whole can get a quick visual read about what's working and what's causing consternation.
"You can prompt your group as you see fit, to focus on organizational issues vs. personal issues or to focus on process issues, etc. You might suggest that it will be easier to think about what makes them glad after they've vented their frustration points."
Landay suggests starting with "GLAD," noting that the team may have lots to work on, but there are some things that are working well, which can set off a positive tone for the conversation. After that, work on the most problematic issues first. Because everyone has expressed the problem, the group can turn their discussion to solutions.
"This tool can be adapted to your content," says Landay. "For instance, if you're teaching about project management, you could use the tool to uncover problems with your current approach, asking 'what about your current process makes you sad, mad, or glad?'"
2) Start – Stop – Continue – Change
These sticky note pads can help debrief a project, teambuilding games and exercises, or review work processes and procedures that have become the norm. They are great for individuals or small groups; simply pass them around and prompt the group with the following questions:

What actions should you START doing to integrate today's learning into your daily processes?
Which actions should you STOP doing to avoid current problems?
What's still working that you should CONTINUE to do?
What needs to CHANGE in order to bring about the desired change?
After each person has posted their thoughts on a board that all can see, the facilitator can group the ideas thematically and focus discussions on the most important take-away points.
3) Works Well? Do differently?
Rather than having a free-for-all, each construct moves the group through a series of structured questions that tease out where individuals are in the current state, what's good or bad about it, and how they might envision a new and better reality.
Create a Visible Record of the Conversation
Conflict resolution experts have noted that people have a way of repeating themselves until they think their message has been truly heard. Two easy tricks can help limit circular or repetitive conversations: 1) Repeat back the other person's argument. In fact, try to make their case for them, even better than they said it themselves. 2) Write it down for all to see.
Recording conversations lets participants see their thoughts have been correctly heard. Several low-tech tools are great for this—flip charts and whiteboards. If you're using Flip Charts, after you fill up one page, don't just flip the page over. Rather, post it on the wall where everyone can see it. If you have a whiteboard, go ahead and use it! Just be sure you'll have enough space to gather everyone's input; if not, you might have to write smaller or supplement with flip charts. For smaller groups, a Tabletop Whiteboard is a nice solution, rather than resorting to one person taking notes on their computer, ipad, or notepad. When everyone if viewing a single pubic record, they can be sure their thoughts have been captured correctly.
Courageous conversation resources can also help save time as they eliminate circular conversations and help ensure that the conversation does not have to be repeated (that doesn't mean that certain points won't need to be revisited, but you likely won't have to rehash what has been said before).
These products are available from Office Oxygen or its sister company, Trainers Warehouse.