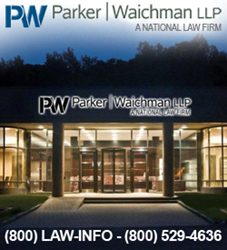 Port Washington, New York (PRWEB) July 08, 2014
Parker Waichman LLP, a national law firm dedicated to protecting the rights of consumers, along with co-counsel, Birka-White Law Offices; Whitfield Bryson & Mason LLP; and Pendley, Baudin & Coffin, L.L.P.,have filed a class action lawsuit against Tamko Building Products Inc., in the U.S. District Court for the Eastern District of California, Sacramento Division (Case 2:14-at-00847). The lawsuit, which was filed on July 3, 2014, was filed on behalf of Robert and Linda Hoekman and all others similarly situated who purchased the shingles. It is alleged that Tamko shingles are defective and prone to early failure.
In Hoekman's case, according to the Class Action Complaint, the claimants compared Tamko's shingles to competitors and decided to purchase Tamko shingles based on Tamko's advertising and marketing materials, specifically that the shingles would be free from defects for 50 years. In August 2013, the Hoekmans learned that their shingles were severely cracking, blistering, and prematurely failing, and that parts of their roof were suffering from significant granule loss. They contacted Tamko and received a Warranty Claim Form to complete and return with photographs and other supporting documents. They returned these documents to Tamko on September 13, 2013 and, on or about October 10, 2013, they received a letter from Tamko with a "Tamko Warranty Claim Settlement Work Sheet" and a Material Certificate prorated for 40 squares of the same defective Tamko Heritage Shingle; labor costs were excluded. It was only when the Hoekmans contacted Tamko in August 2013 that they first became aware of Tamko's Limited Warranty and other limitations.
According to the complaint, Tamko shingles do not perform as advertised and are not compliant, despite being marketed as being durable, reliable, and compliant with ASTM D3462 standards appropriate for use in homes and other structures. The plaintiffs also allege negligence/negligent design and unfair and deceptive trade practices in violation of the California's Unfair Competition Act (UCL), False Advertising Law (FAL), and Consumer Legal Remedies Act (CLRA).
Tamko Building Products also assured its customers that the products would be defect-free for at least 50 years; however, the Plaintiffs allege that the shingles do not conform to Tamko Building Products warranties and representations. According to the complaint, the Tamko shingles allegedly contain a defect that causes the following
problems:

Blistering
Cracking
Early granule loss
Increased moisture absorption
Wind loss
Reduced life expectancy
Also, according to the lawsuit, there is a specific defect in the design and manufacture of Tamko's shingles that permits blisters and cracks to occur. Tamko designed the shingles to be manufactured with less than the required amount of asphalt, and in such a way that the design permits moisture to intrude, which creates a gas bubble that leads to blistering and cracking. The defects in the shingles allegedly result in damage to the building components of the structures on which they were installed and damage property within those structures. It is also alleged that Tamko continued to market and sell the shingles and make false representations and warranties despite learning that the shingles are defective. Tamko also markets and represents that its Shingles "offer the longest up-front protection available," according to the lawsuit
Tamko tiles are unfit for their intended use and the defects are so severe that consumers must repair or replace their shingles sooner than reasonably expected and the product is neither durable nor suitable for use as a building product when compared to other roofing products, according to the allegations. Had the Plaintiffs known that Tamko's Limited Warranty included the limitations it contains, such as an arbitration clause, the Plaintiffs would not have had the Tamko shingles installed at their home, according to the lawsuit's allegations.
Parker Waichman LLP continues to offer free lawsuit consultations to consumers who have purchased Tamko Business Products shingles as described in the lawsuit. For more information, please visit the firm's Tamko Shingles Class Action Lawsuit page at yourlawyer.com. Free case evaluations are also available by calling 1(800) LAW-INFO (1-800-529-4636).