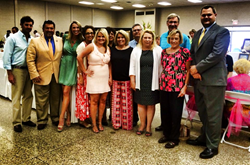 This event helps local families receive a respite from care giving in a loving and caring environment.
Valdosta, Georgia (PRWEB) July 10, 2014
Easter Seals Southern Georgia hosted Sweet Charity on June 26th at the Mathis City Auditorium in Valdosta. While enjoying food and drink, guests participated in a silent auction with a variety of items donated by local businesses. Participating restaurants were Wiregrass Restaurant and Bar, Friends Grille and Bar, 306 North, Quality Wines and Spirits, Longhorn Steak House, Wiregrass Technical College, Mama June's, The Cup and Cake Shop, Atlanta Bread Company, Elliano's, Quality Wine and Spirits, and Jay's Mountain Water.
Proceeds from the event topped $7,000 which will benefit Megan's House, children's respite home, in Valdosta. Megan's House serves children with developmental disabilities or who are medically fragile and are between the ages of 0-17. Easter Seals Southern Georgia operates three Megan's Houses locations in Albany, Valdosta, and Waycross.
Easter Seals Southern Georgia provides exceptional services, education, outreach, and advocacy so that people living with autism and other disabilities can live, learn, work and play in our communities. Stay connected! Sign up to receive news and special announcements. To read more about our organization go to http://www.easterseals.com/southerngeorgia/ or call 229-439-7061.