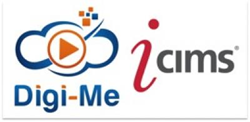 Aurora, Illinois (PRWEB) July 09, 2014
The iCIMS Talent Platform enables HR professionals to manage their organization's entire talent acquisition lifecycle--from building talent pools, to recruiting, to onboarding--all within a single web-based application. Through the company's partnership with Digi-Me, iCIMS clients can now benefit from having dynamic, studio-quality videos embedded into job descriptions within the iCIMS Talent Platform, creating a one-stop shop for all their clients' HR technology needs.
"Digi-Me and iCIMS understand the importance of innovation in our industry, specifically the significance of video," commented Susan Vitale, iCIMS' Chief Marketing Officer. "iCIMS has created the gold standard for job seeker usability in talent acquisition technology, and through this partnership Digi-Me can take text-based job descriptions and a company's cultural overview and create engaging video content featuring professional talent to display on job descriptions. The partnership provides our customers with even more options for increasing candidate engagement during the recruitment process," Vitale concluded.
Moreover, Digi-Me's latest technology, a content management system that allows clients to manage their video libraries in real time from any device (all without the help of a customer representative), is especially relevant to the iCIMS partnership. "Our client-facing content management system feeds directly into our clients' applicant tracking system, which can be delivered by iCIMS," explained Lindsay Stanton, Chief Client Officer for Digi-Me. "So, we already have an intimate familiarity not only with how iCIMS software works but also how our two systems work together to make recruiters' lives easier and more efficient."
To learn more about how Digi-Me recruitment video solutions simplify recruitment, go to digi-me.com or contact sales(at)digi-me(dot)com.
About iCIMS, Inc.
iCIMS, a leading provider of innovative Software-as-a-Service (SaaS) talent acquisition solutions, is an Inc. 500 and Software Satisfaction honoree focused on helping businesses win the war for top talent through the implementation of easy-to-use, scalable solutions that are backed by award-winning customer service. iCIMS' Talent Platform, the industry's premier candidate management solution, enables organizations to leverage mobile, social, and video technologies to manage their entire talent acquisition lifecycle from building talent pools, to recruiting, to onboarding all within a single web-based application. With more than 2,500 clients worldwide, iCIMS is one of the largest and fastest-growing talent acquisition system providers with offices in North America, UK, and China. To learn more about how iCIMS can help your organization, visit http://www.icims.com or view a free online demo of the iCIMS Talent Platform.
About Digi-Me/JSTN
With our short, customized recruitment videos spotlighting career opportunities and corporate culture, Digi-Me, a JSTN company, delivers information to job-seekers in a way that is more engaging & more accessible across all media platforms than text. Our professional-quality video solutions include the latest cloud-based tracking technology for up-to-the-minute reporting on candidate behavior as well as automatic integration into your ATS. Harness the power of video to boost SEO, improve candidate self-selection, and stand out from the competition with Digi-Me video solutions. http://www.digi-me.com
Media Contact:
Katie Teper
Interactive Marketing Manager
kteper(at)myjstn(dot)com
(630) 780-9454