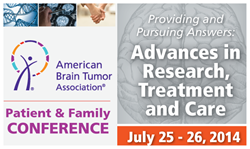 Chicago, IL (PRWEB) July 09, 2014
With more than 120 types of brain tumors, there is no one-size-fits all approach to treatment. That is why in some instances, physicians engage the expertise of colleagues across specialties for discussion of a particular case. This multidisciplinary group is called a "tumor board" and is where these physicians can discuss each case to define the optimal treatment for a patient.
Attendees of the American Brain Tumor Association's annual patient and family conference in Chicago, July 25-26, will have a unique opportunity to experience how a tumor board's multidisciplinary team reviews patient cases.
Tumor Board meetings take place frequently at hospitals and academic medical centers across the country. Patients can request that their case be presented to the tumor board by their physician.
"Having your case reviewed before the tumor board is another way of seeking a second opinion about your treatment plan," said Deneen Hesser, MSHSA, RN, OCN, chief mission officer for the ABTA. "It's also a way for patients to gather opinions from many specialists without scheduling evaluations with each individually."
Jeffrey Raizer, MD, director, Medical Neuro-Oncology, Northwestern Brain Tumor Institute, will moderate the "Tumor Board Case Presentation and Panel Discussion" session. The mock tumor board panel, which will review real but anonymous brain tumor patient cases, includes a neuro-oncologist, neurosurgeon, neuropathologist and radiation oncologist.
"A tumor board case review offers patients the benefit of the collective experience of a variety of specialists," said Dr. Raizer. "When a patient's case goes before a tumor board, that patient is gaining the expertise of many who are drawing on their own experiences with similar patient cases and the current treatment approaches based on the literature. This wealth of knowledge across specialties helps determine the best approach to patient care."
What if your hospital doesn't offer a tumor board? Dr. Raizer suggests talking with your physician since many tumor boards review cases from other institutions or contacting those institutions directly.
"Navigating your care can be difficult and overwhelming after receiving a brain tumor diagnosis," expressed Hesser. "That's why the ABTA felt so strongly about offering a tumor board experience during our conference this year. We hope to educate patients and families about all the options and resources available to them, and provide experiences that will enable them to be the best advocates for their care."
About the ABTA Patient and Family Conference
The American Brain Tumor Association's conference annually brings together brain tumor experts, researchers, patients, families and caregivers with the goal of improving the lives of people living with a brain tumor. This year's theme, "Providing and Pursing Answers: Advances in Research, Treatment and Care" describes the ABTA's mission to be a leader in providing and pursuing the answers that brain tumor patients and their families seek.
Throughout the conference, national brain tumor experts will cover a wide variety of topics not only new research and treatments, but also important quality of life issues.
The ABTA's 2014 patient and family conference will take place July 25-26 at the Renaissance Chicago O'Hare Suites Hotel, just minutes away from Chicago's O'Hare International Airport. To learn more or register, visit http://www.braintumorconference.org.
About the American Brain Tumor Association
Founded in 1973, the American Brain Tumor Association was first and is now the only national organization committed to funding brain tumor research and providing support and education programs for all tumor types and all age groups. For more information, visit http://www.abta.org or call 800-886-ABTA (2282).