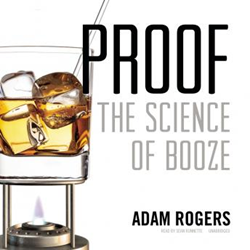 Proof is an entertaining, well researched piece of popular-science writing
(PRWEB) July 17, 2014
In a follow-up to Adams' WIRED article "The Angel's Share", the Distillation chapter of Proof tells the story of how Sporometrics' Dr. James Scott found himself studying mycology and delves deeper in to the mystery of the whiskey fungus he investigated.
Proof: The Science of Booze. Humans have been perfecting the science of alcohol production for ten thousand years, but modern scientists are only just beginning to distill the complex reactions behind the perfect buzz. In a spirited tour across continents and cultures, Adam Rogers puts our alcoholic history under the microscope, from our ancestors' accidental discovery of fermented drinks to the cutting-edge laboratory research that proves why—or even if—people actually like the stuff.
From fermentation to distillation to aging, Proof offers a unique glimpse inside the barrels, stills, tanks, and casks that produce iconic drinks. Rogers ventures from the whiskey-making mecca of the Scottish Highlands to the most sophisticated gene-sequencing labs in the world—and to more than one bar—introducing us to the motley characters and evolving science behind the latest developments in boozy technology. He uncovers alcohol's deepest mysteries, chasing the physics, molecular biology, organic chemistry, and even metallurgy that power alcohol production, and the subtle mixture of psychology and neurobiology that fuels our taste for those products.
With intoxicating enthusiasm, Rogers reveals alcohol as a miracle of science. If you've ever wondered how exactly your drink of choice arrived in your glass, or exactly what will happen to you once you empty it, Proof makes an unparalleled drinking companion. – from the publisher
In 2011, Sporometrics was pleased congratulate Adam Rogers, senior science editor at WIRED magazine, for receiving the 2011 AAAS Kavli Science Journalism Award for best magazine article for "The Angel's Share", in which he recounted Dr. Scott's work on the whisky fungus, Baudoinia compniacensis. The Kavli awards are administered by the American Association for the Advancement of Science (AAAS), which publishes Science, the largest paid circulation of any peer-reviewed general science journal in the world, along with numerous other publications and programs that raise the bar of understanding for science worldwide. The AAAS has administered these awards to professional journalists for distinguished reporting for a general audience since their inception in 1945.
Praise for Proof: The Science of Booze
"Rogers's book has much the same effect as a good drink. You get a warm sensation, you want to engage with the wider world, and you feel smarter than you probably are. Above all, it makes you understand how deeply human it is to take a drink." —Wall Street Journal
"This science-steeped tale of humanity's 10,000-year love affair with alcohol is an engaging trawl through fermentation, distillation, perception of taste and smell, and the biological responses of humans to booze...Proof is an entertaining, well researched piece of popular-science writing." —Nature
About Sporometrics
Sporometrics Inc. is a privately owned Canadian company that provides contract research and microbiological testing services for environmental samples. Since its inception in 1993, Sporometrics has been an industry leader in basic and applied scientific research on biomedical, industrial and environmental microbes.