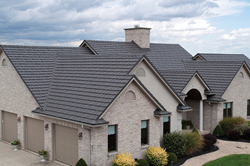 Even though it's probably the biggest design surface of your home, most people don't consider the impact a roof has on curb appeal.
Belfair, Washington (PRWEB) July 10, 2014
Why does curb appeal matter? Home buyers look at pictures on the web and make split second decisions about whether they are going to call their agent about walking through a home. Eighty-five percent of buyers will view your home on the Internet prior to visiting. Your home won't sell unless you get a potential buyer in the front door.
"When faced with a long list of possible homes to visit, many buyers will first conduct a drive-by inspection before scheduling an appointment. You may be able to overlook the cracked and stained roof, but real estate shoppers may not," says renovation expert Bill Hippard, president of the non-profit Metal Roofing Alliance. "Even though it's probably the biggest design surface of your home, most people don't consider the impact a roof has on curb appeal."
Hippard offers the following list of 10 Ways to Increase Curb Appeal. Even if you're not planning to sell your home, these tips can freshen up your home's exterior, and increase your own enjoyment of your home
1. Makeover Your Mailbox
Paint or replace your mailbox. Upgrade to a larger model if your current mailbox is on the small side. It's a small investment that can add a new design element.
2. Showcase Your Number
Make sure your house number is bold and easy to see from the street. You want potential buyers (and any delivery people) to easily find your home.
3. Add Outdoor Lighting
Consider adding outdoor lighting to your front yard. Many lighting systems are easy to install and can highlight the architecture of any home. You'll also help night-time real estate browsers to better see your home, and increase your security.
4. Replace Gutters and Downspouts
If gutters and downspouts are rusty or falling off the house, replace them. Gutters help take water away from your foundation. Leaking gutters could lead to foundation issues, as well as termites.
5. Dress up the Driveway
Resealing a driveway can bring it back to life. If the driveway is in bad shape, consider replacing it with stamped concrete or decorative pavers.
6. Upgrade Railings
Paint or replace dirty and dingy railings or replace them with decorative steel or wrought iron railings.
7. Inspect the Roof
Review the state of your roof, and determine whether repair or replacement is needed.
You can find a checklist for reviewing your roof without a ladder here.
8. Dress Up the Front Door
Replace old hardware and give your entry door a fresh coat of paint.
9. Renew Exterior Paint, Siding and Trim
If your siding is in good shape, power-wash it. Adding an accent color to the trim can also make a difference.
10. Add Flowers
Even if you don't have a full planting bed, window boxes or planter pots add charm and color to the front of any home. Resist the urge to use fake flowers and greenery - they'll look cheap and detract from your home's beauty.
In addition to adding to your home's overall appearance, many of these items will need to be addressed as part of a standard home inspection prior to sale, so you'll be one step closer to finalizing the deal.
For more home improvement tips, including a downloadable checklist for inspecting your roof without a ladder, homeowners can visit the Metal Roofing Alliance at http://www.MetalRoofing.com.