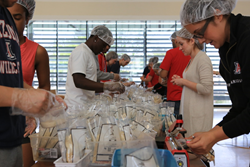 Charlotte, NC (PRWEB) July 09, 2014
Stop Hunger Now and Alpha Kappa Alpha Sorority are joining forces in the fight against hunger. A total of 1,000 members and volunteers, including those from a host of agencies, will package 100,000 meals for the world's hungry on Saturday, July 12 at the Charlotte Convention Center from 10AM – 2 PM. The meal packaging activity is the Sorority's service project that kicks off its convention, which goes from July 12-18. The event is in commemoration of "International Mandela Day" a day of service observed on July 18th internationally in tribute to the late global icon.
This activity supports the Sorority's commitment to fight global hunger, which is one of the missions under the Sorority's program theme: "Global Leadership Through Timeless Service."
Among the organizations that will have volunteers join the Sorority in this meal-packaging event include First United Methodist Church of Charlotte, Friendship Baptist, Memorial Presbyterian, the Kings Mountain Congregational Church of Christ and The Park Church. Hundreds from the community also logged onto AKA's website and volunteered.
State Farm is a sponsor of the event as well as a participant.
"Alpha Kappa Alpha is ardently committed to addressing the global hunger crisis that grips our world," declared Carolyn House Stewart, Alpha Kappa Alpha's international president. "By making this our signature service project for our conference, we are making a dramatic statement about the importance the Sorority places on combating hunger. By partnering with Stop Hunger Now, which was founded exclusively to address this crisis, AKA is assured that the meals will be distributed to areas of most need."
Stop Hunger Now meal-packaging events are a volunteer-based program that coordinates the streamlined packaging of highly nutritious dehydrated meals comprised of rice, soy, vegetables, flavoring and 21 essential vitamins and minerals.
Around the world, nearly 870 million people lack adequate food and about 25,000 die each day from hunger-related causes. Stop Hunger Now operates meal packaging locations in 17 cities throughout the U.S. and four international locations in South Africa, Malaysia, the Philippines and Italy. More than 400,000 volunteers from corporations, churches, schools and civic organizations have packaged Stop Hunger Now meals.
Founded in 1998, Stop Hunger Now has delivered aid and disaster relief supplies in the form of food, medical supplies, clothing, school supplies and more to thousands of disaster victims and other hungry and vulnerable people in 65 countries.
Alpha Kappa Alpha has a history with Stop Hunger Now as it participated in a meal-packaging event when the Sorority chartered a chapter in South Africa. Members worked with Stop Hunger Now SA in what Stewart hailed as "a successful and uplifting experience."
"What we want everyone to know is that hunger is solvable and is the common thread among the world's most challenging issues. When hunger is targeted, you give leverage and hope to every other cause including poverty, disease, education and the welfare of women and children," said Rod Brooks, President and CEO of Stop Hunger Now.
About Stop Hunger Now
For more than 15 years, Stop Hunger Now has been creating a movement to end hunger with more than 140,000,000 meals distributed along with other aid to 65 countries. Driven by a mission to end hunger in our lifetime, the organization provides food and life-saving aid to the world's most vulnerable and helps mobilize the necessary resources impacting millions of lives.
Stop Hunger Now meal packaging programs offer volunteers the opportunity to participate in a hands-on international hunger relief program and to become educated, engaged advocates for the world's poor and hungry. In 2013, Stop Hunger Now packaged 38.6 million meals in the U.S. and an additional 3.3 million meals were packaged by international locations.
In its efforts to respond to emergency needs around the world Stop Hunger Now receives and distributes significant donations of in-kind aid. These donations are large quantities of food, medicines, medical supplies and other such items as may be of use in fighting hunger and providing relief in a crisis.
********
About Alpha Kappa Alpha Sorority
Headquartered in Chicago, Illinois, Alpha Kappa Alpha boasts over 265,000 women in 985 chapters in the United States, the Caribbean, Canada, Germany, Bermuda, South Korea, the Bahamas, Japan and on the continent of Africa. All are bound by the Sorority's commitment to serve all mankind. Its membership includes a wide array of outstanding luminaries who cross several disciplines and industries. Among its high-profile members are Ellen Johnson Sirleaf, president of Liberia; poets Toni Morrison and Maya Angelou, Dr. Mae Jemison, first woman of color to travel into space, actresses Phylicia Rashad, Jada Pinkett-Smith, and Grammy Award winner Alicia Keys. Political leaders that are members include Congresswomen Sheila Jackson Lee, Eddie Bernice Johnson, Terri Sewell and Frederica Wilson. The late civil rights champions Coretta Scott King, Rosa Parks and Septima Poinsette Clark were also members. Attorney Carolyn House Stewart is the 28th International President. Under her leadership, in 2013, members volunteered 1.4 million hours of service in communities all over the globe.