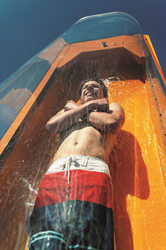 Branson, Missouri (PRWEB) July 08, 2014
White Water has gathered new accolades as the summer water park season hits full swing; Fodor's Travel named the Branson, Missouri park to its list of "10 Best Water Parks in the US." The website posted the list for the July 4th holiday, noting that while smaller than other parks on the list, White Water ranks in the top because it is a "well-organized, family-centered park" with attractions ranging from the new drop-floor thrill slide KaPau Plummet to the kid-friendly Splashaway Cay. Fodor's is one of the world's largest publishers of travel guides and information.
In additional rankings, KaPau Plummet was named in the LA Times' list of "Top 14 New Water Slides for 2014," and NBCnews.com and Today.com's list of "10 New Water Slides You've Gotta Ride."
"Night Water" is now underway at White Water, with all rides and attractions open from 10 a.m. to 10 p.m. Thursdays through Saturdays through August 9, plus on select bonus days through August 30. Guests can stay for the 12-hour day with a one-day ticket or season pass, or come after 5 p.m. for $25 per person. For even later water play, White Water stays open until midnight on Saturday, August 9.
"Dive-In" movies are featured on Friday nights on a 10-foot screen above the 500,000-gallon Wave Pool, including The Little Mermaid, E.T. and Back to the Future. New "Red, White & BOOM" fireworks fill the sky above the wave pool at park closing on Saturday nights.
White Water is one of the Silver Dollar City Attractions in Branson.
For schedules and information: 800-831-4FUN(386) or http://www.bransonwhitewater.com.