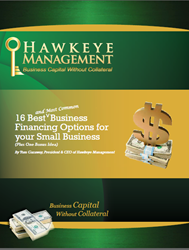 Blackwood, NJ (PRWEB) July 17, 2014
Business owners make many mistakes in borrowing money to finance a small business; small business owners pay too much in interest, don't get the best terms, get the wrong type of loan, hurt the owners personal and business credit, or fail to take advantage of the tax breaks the small business owner should get as a business borrower. These mistakes happen mostly because entrepreneurs and small business owners are experts in a certain industry, but not in the world of credit and lending.
Small business owners don't know all the options, all the different ways to obtain funding. There are many different ways to get money for a small business, but obtaining business capital really boils down to two basic categories: Either giving up equity in the business or taking on debt. The report outlines the best and "most common" business financing options for small businesses and it's not meant to be an exhaustive list of every imaginable way to obtain funding. The financing solutions herein probably make up 90% of all capital that is obtained by small business owners. Within those two categories of debt and equity, there are many variations.
Equity
Giving up an equity stake in a business means ownership of the business is reduced. As the business grows and becomes more successful, investors will share in those profits; once a small business owner takes on equity investors, it also means the pressure builds for an "exit" event that would pay off those investors -- usually a sale of the business, public offering, or possibly a healthy dividend or distribution of profits. Most business owners aren't ready to give up an equity stake. If the small business owner is interested in remaining in control of the business, it's probably not the best small business financing option. However, certain businesses find it necessary to bring on equity investors because of the amount of capital the small business needs access to. Additionally, equity investors can provide lots of help, needed assistance, and valuable connections in many areas of building a fast-growth company.
Debt
According to the Meredith Whitney Advisory Group, 82% of small business owners use credit cards as "a vital part" of their operations. Therefore, debt may be the best option for a small business owner instead of giving up ownership in the small business. Debt financing includes:

Trade or Vendor Credit
Credit Cards
Unsecured Business Line of Credit
Commercial Bank Loan/SBA Loan
Peer Loan
Home Equity Line of Credit
Cashing Out or Borrowing from Retirement Funds
Equipment Financing
Factoring
Purchase Order Finance
Import/Export Loan
To read the full report on the 16 Best Financing Options for a Small Business click here.
The INC500 company Hawkeye Management connects entrepreneurs and small business owners with up to $50,000-$150,000 or more in freely spendable business credit lines. Hawkeye Management understands the mechanics and realities of small business credit better than anyone. Hawkeye Management knows what works, what doesn't work, and how small businesses can get the credit it needs as quickly as possible.