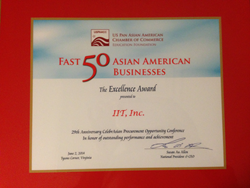 Our success is a direct result of our clients for having trust in IIT. Our staff and consultants have worked hard in helping IIT reinforce its commitment to be viewed as one of the easiest vendors to work with by its clients. - Dinesh of IIT Inc.
Washington, DC (PRWEB) July 09, 2014
The awards were officially unveiled during the Excellence Awards Gala, at USPAACC's 29th annual national flagship CelebrAsian Procurement Conference, on June 2, 2014 at the Sheraton Premiere at Tysons Corner in Virginia.
Dinesh Gulati of IIT Inc. was among the Founders, CEOs, COOs, and Presidents that flew in from all over the country for the black-tie event. Together, the fast-growing Asian American businesses generated an average 3-year annual revenue of $3 billion.
According to Ernst and Young's compilation, IIT was ranked #1 amongst all companies in its segment. At the Gala attended by more than 700 participants, Dinesh Gulati, Managing Director of IIT Inc., was invited to speak at the event to describe IIT's formula for its success. "I am honored to accept this award on behalf of our talented staff and consultants who work at IIT," said Dinesh. "Our success is a direct result of our clients for having trust in IIT. Our staff and consultants have worked hard in helping IIT reinforce its commitment to be viewed as one of the easiest vendors to work with by its various Government and Fortune 1000 clients seeking IT Consulting and Staffing Services."
PepsiCo Chairman and CEO, Indra Nooyi, the Conference Chair, gave the keynote address. Corporate Co-Chairs included AT&T, PepsiCo, UPS, and Wells Fargo. The Honorable Tim Kaine, U.S. Senator from Virginia, delivered the welcome remark at the Gala.
"USPAACC is proud to recognize and showcase the continued robust and steady growth Asian American-owned businesses across industries have achieved, even amid challenging economic times," said Susan Au Allen, USPAACC National President & CEO. "We salute IIT Inc. and the rest of our Fast 50 Asian American Businesses — proof positive that through innovation, hard work, and ingenuity, Asian Americans can lead the way as catalysts to the revitalization of our national economy."
Representing a wide range of industries nationwide—biotechnology, construction, consulting services, capital management, food and beverage, information technology, pharmaceuticals, resource management/environmental, staffing services, and telemarketing—the 2014 winners were Americans of Chinese, Japanese, Korean, South Asian, and Vietnamese heritage.
To qualify, companies must be owned (at least 51%) and managed by one or more Asian Americans (U.S. citizens or permanent residents) and with at least $1 million in annual revenue in the immediate past 3 fiscal years of operation. Through direct applications/nominations, selection was determined by percentage revenue growth over the past three years.
CelebrAsian is the largest annual national B2B conference convened by the pan Asian American businesses to find partners in small, medium, and large enterprises. More than 700 Conference participants – representing more than 210 Asian American B to B enterprises, 85 Fortune corporations, 25 government agencies, and 9 media partners – came in full force from all over the United States.
About IIT:
Founded in 1995, IIT is a privately held company headquartered in New York, with an impeccable track record in delivering Technologies Services, Consulting, and Staffing Solutions. With a background in working with Fortune 1000 and Government organizations with complex IT needs, IIT aims to be the leader in IT Professional Services domain for enterprise-class businesses. IIT is an Oracle and IBM Business Partner and a member of New York Staffing Association. For more information, please visit IIT-INC.com or contact us at 1-888-IIT-1292
About USPAACC:
Founded in 1984 as a non-profit and non-partisan organization, the US Pan Asian American Chamber of Commerce Education Foundation (USPAACC) is headquartered in Washington, DC, with Regional Chapters in CA, NY, TX, GA, IL, CT, MD-VA-DC National Capital Area. USPAACC is the single unified voice for equal opportunity for Asian American businesses.
About EY:
Ernst & Young is a global leader in assurance, tax, transaction, and advisory services. The insights and quality services we deliver help build trust and confidence in the capital markets and in economies the world over. EY develops outstanding leaders who team to deliver on their promises to all of our stakeholders. EY refers to the global organization, and may refer to one or more of the member firms of Ernst & Young Global Limited, each of which is a separate legal entity.
Media Relations Contact:
Teena Touch
631-254-8600 ext. 510