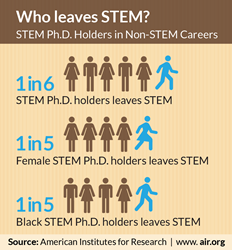 Washington, D.C. (PRWEB) July 09, 2014
One in six who earns a Ph.D. in science, technology, engineering or mathematics (STEM) pursue careers outside the field, with women and blacks most likely to do so, finds a new American Institutes for Research (AIR) analysis of what general career paths and work these Ph.D. holders take up once leaving their discipline.
"The STEM community is losing contributions to scientific and technological discovery," lead author and AIR senior researcher Lori Turk-Bicakci said. "This brain drain restricts potential advantages gained from diverse perspectives and the availability of role models for underrepresented groups."
Using a weighted sample of 425,431 participants from the National Science Foundation's 2010 Survey of Doctorate Recipients, the authors examined those who received a doctorate in a STEM discipline between 1959 and 2010. Most were in the middle of their careers, with 78 percent earning their degrees 10 years ago or longer.
Key findings about STEM Ph.D. holders who have left their field include:

Women are more likely than men to leave STEM (19 percent versus 16 percent).
Blacks are more likely than other races and ethnic groups to leave (21 percent compared with 17 percent of whites, 14 percent of Asians and 14 percent of Hispanics).
Nearly 40 percent of those who leave STEM work in the private, for-profit sector. Nearly a quarter are self-employed, with 23 percent in government and 13 percent in a private nonprofit.
The largest groups of black men (42 percent) and black women (46 percent) work in government.
About half of Asian women, Asian men and Hispanic men work in the private, for-profit sector.
Men are more likely than women across all racial/ethnic groups to report research and development as a primary work activity:
22 percent of black men, 9 percent of black women
29 percent of Hispanic men, 11 percent of Hispanic women
26 percent of Asian men, 20 percent of Asian women
22 percent of white men, 15 percent of white women
Men are also more likely than women to hold mid- and top-level management positions:
42 percent of black men, 34 percent of black women
61 percent of Hispanic men, 25 percent of Hispanic women
56 percent of Asian men, 26 percent of Asian women
51 percent of white men, 28 percent of white women
To read the full version of "Leaving STEM: STEM Ph.D. Holders in Non-STEM Careers," visit http://www.air.org.
About AIR
Established in 1946, with headquarters in Washington, D.C., the American Institutes for Research (AIR) is a nonpartisan, not-for-profit organization that conducts behavioral and social science research and delivers technical assistance both domestically and internationally in the areas of health, education, and workforce productivity. For more information, visit http://www.air.org.