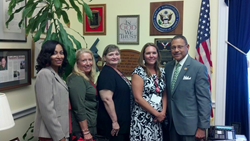 Albany, GA (PRWEB) July 09, 2014
Easter Seals Southern Georgia board members Rachelle Scott and Allison Mansfield, accompanied staff member Nicki Wilson along with Lynn Smith, CEO, Easter Seals East Georgia to met with Georgia Representative Sanford Bishop to advocate for individuals with disabilities. The group traveled to Washington D.C. to participate in the Easter Seals 2014 Advocacy Summit. Board members, staff, and volunteers from all over the nation convened to meet with their state delegates to discuss disability issues and pending legislation. While meeting with the local delegates, Easter Seals representatives promoted the passage of the Workforce Innovation and Opportunity Act, fully funding of the Senior Community Service Employment Act, and fully funding the Homeless Veterans Reintegration Program.
Easter Seals Southern Georgia creates solutions that change the lives of children, adults and families with disabilities or special needs by offering a variety of programs and services that enable individuals to lead lives of equality, dignity and independence. For more information, visit us online at http://www.southerngeorgia.easterseals.com or call us (229)439-7061.