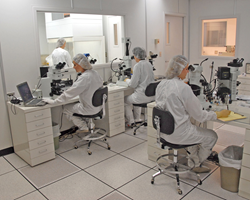 Achieving this accreditation demonstrates our commitment to provide reliable data to our clients.
Westmont, IL (PRWEB) July 09, 2014
McCrone Associates, Inc. has received third party accreditation that signifies their laboratory meets international quality standards for a contract testing laboratory. The ISO/IEC 17025:2005 standard, developed by the International Organization for Standardization, outlines the quality and business processes, as well as the technical requirements to consistently deliver scientifically sound and reliable results.
A growing number of companies in many sectors are looking for accredited testing laboratories. Using companies with third-party accreditation provides reassurance that suppliers meet certain quality standards. Achieving accreditation to the ISO/IEC 17025:2005 standard confirms that McCrone Associates meets that criterion.
"There is a huge emphasis by regulatory agencies and international standard organizations to have supplier approval programs," said Cheryl Murley, McCrone Associates' quality manager. "This accreditation will make it easier for our clients to approve and manage us as a supplier of laboratory services. Clients can rely on our accreditation and might not have to audit us as often or at all because a recognized third-party has done the work for them."
The American Association for Laboratory Accreditation (A2LA) was chosen as the third-party accrediting body. A2LA visited McCrone Associates in early June to evaluate their quality management system, methods, and techniques against the ISO/IEC 17025:2005 standard. Achieving ISO/IEC 17025 accreditation can be a challenging and lengthy process, but because of the robust quality program already in place to satisfy clients requiring current Good Manufacturing Practices (cGMPs) as per the US Code of Federal Regulations, it was a relatively smooth process for McCrone Associates to achieve accreditation.
"Achieving this accreditation demonstrates our commitment to provide reliable data to our clients," said David Wiley, president of McCrone Associates.
McCrone Associates specializes in and is now accredited to perform investigational materials analysis and provide microscopy and microanalysis services for a wide range of industries, from pharmaceuticals and medical devices to food and beverage and personal care products. Visit http://www.a2la.org to view the technologies listed on the scope of accreditation for McCrone Associates.
The ISO accreditation is another example of McCrone Associates' desire to provide the highest quality analytical services to clients. The laboratory's use of ISO Class 5 clean rooms (certified to ISO 14644) for sample preparation and particle isolation distinguishes it from other materials analysis laboratories. For many years, the laboratory has performed analysis in compliance with current Good Manufacturing Practices per the Federal Food, Drug, and Cosmetic Act.
Visit http://www.mccroneassociates.com to read more about how McCrone Associates can help you with materials problems and investigational analysis.
About The McCrone Group:
Founded in 1956 and located in Westmont, IL, The McCrone Group, Inc. is a world leader in materials analysis and is internationally recognized as the premier microscopy resource. The Group is comprised of three business units: McCrone Associates, Inc. provides analytical services to solve challenging materials issues; McCrone Microscopes & Accessories, LLC provides technical guidance and instrumentation to equip laboratories; and Hooke College of Applied Sciences, LLC provides microscopy and microanalytical training to industry and government scientists worldwide. For more information about The McCrone Group, visit http://www.mccrone.com.