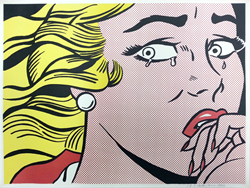 These works are a celebration of the Pop aesthetic and its appropriation of American popular culture.
New York / Berlin (PRWEB) July 09, 2014
artnet Auctions is proud to present our highly anticipated Summer Pop sale, which features over 40 works by the leaders of the Pop Art movement. These works are a celebration of the Pop aesthetic and its appropriation of American popular culture. Summer Pop features prints by Andy Warhol, Roy Lichtenstein, Robert Indiana, Keith Haring, Robert Rauschenberg, and Tom Wesselmann, among others. Estimates range from US$1,000 to 75,000.
Among the sale's highlights is one of the most sought-after Pop prints ever created, Roy Lichtenstein's Crying Girl (1963), estimated at US$55,000 to 75,000. From his series of works depicting women based on the characters in D.C. Comics' Girls' Romances and Secret Hearts, this image is one of Lichtenstein's earliest implementations of his iconic Benday dots. Other notable works by Lichtenstein on offer include Still Life with Pitcher and Flowers (1974), estimated at US$22,000 to 28,000, and Foot and Hand (1964), estimated at US$12,000 to 18,000.
Andy Warhol (American, 1928–1987) was also developing his own Pop aesthetic in the mid-1960s, gaining attention for his Campbell's Soup Cans, in which he declared these everyday consumer goods worthy of artistic attention. After creating his first set of 10 soup can screenprints, Warhol followed with a second set the next year, Campbell's Soup II. Golden Mushroom Soup (1969), from the second series, is featured in this sale, with an estimate of US$20,000 to 25,000. Among other notable Warhol prints in this sale are Paramount from the Ads portfolio (1985), estimated at US$35,000 to 55,000, a vibrant blue and yellow Electric Chair screenprint (1971), estimated at US$10,000 to 15,000, and his quintessential Flowers print (1971), estimated at US$35,000 to 40,000.
Artworks by other Pop artists are also well represented in this sale, including the brilliantly colored graphic works of Keith Haring (American, 1958–1990). Haring's 1988 Pop Shop Quad II, a quartet of his iconic dancing figures, is estimated at US$15,000 to 20,000. Other works by Haring in the sale include Art Attack on Aids (1988), estimated at US$25,000 to 30,000, and Untitled (from Three Lithographs) (1985), estimated at US$12,000 to 18,000.
Summer Pop is live on artnet Auctions from July 8 to 17, 2014, and is on view at
http://www.artnet.com/auctions/search/?q=keyword-pop_2014-category-all-artworks-active-auctions-only/&utm_campaign=pressrelease&utm_source=7814pop&utm_medium=link.
— Register to bid on artnet Auctions: https://www.artnet.com/auctions/register-to-bid.
— View all lots: http://www.artnet.com/auctions/all-artworks/.
For more information about this sale, please contact artnet Auctions specialist:
Alex Benrimon
Specialist, Prints & Multiples
+1-212-497-9700 ext. 147
abenrimon(at)artnet(dot)com
About artnet
artnet is the leading online resource for the international art market. Established in 1989, artnet provides reliable information and market transparency to art collectors. With our comprehensive suite of products, artnet can empower anyone with a passion for art.
With 24/7 worldwide bidding, artnet Auctions & Private Sales is a dynamic marketplace for collecting art. Our online auction platform provides a unique collecting experience with seamless flow between consignors, specialists, and collectors. Our auctions and private sales community influences new collectors and inspires everyone to collect art.