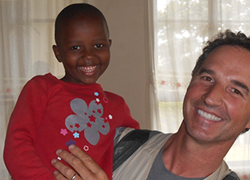 To see the children dressed in school uniforms, singing songs, smiling and laughing, and most importantly, learning and speaking in English was really touching.
Salt Lake City, UT (PRWEB) July 11, 2014
WWTrek Human Outreach Project Team has been hard at work at the Kilimanjaro Kids Community in Tanzania. Opened in 2012, the KKC is now home to 12 children, 40 goats, 150 chickens, and two cows. HOP Founder, Dean Cardinale, started the KKC to create a sustainable home and provide education for some of the orphaned children he encountered while running treks on Tanzania's Mount Kilimanjaro.
This week, the HOP Team visited the children, who have all made astounding progress in school over the three years since the opening of the orphanage. Raising chickens has also become a sustainable resource, creating both food and income for the orphanage.
HOP's sister company, World Wide Trekking, was founded in 2006. WWTrek quickly found a niche market, catering to discerning clientele and specializing in luxury adventure travel. Part of World Wide Trekking's mission is giving back to the places their guests visit through the Human Outreach Project.
In the coming year, HOP plans to convert the original classroom into a learning center with internet access and improved functionality for the children. HOP also plans to upgrade the kitchen facilities by adding a refrigerator, freezer, and gas burning stove. To read more about Dean's experience at the Kilimanjaro Kids Community this week, click here.