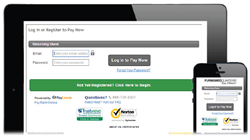 New York, NY (PRWEB) July 09, 2014
Furnished Quarters, the largest provider of temporary furnished apartments in New York City and Boston, today announced that it has introduced an option for guests to make payments online. The new online payment service—which allows for secure, PCI-compliant credit card and e-check payments—is based on a partnership with San Diego-based online payment processor, PayLease.
"Offering our guests top security is always a high priority for us," said Lorraine Sullivan, CFO, Furnished Quarters. "We wanted our customers to have the ability to quickly and easily pay securely online—which is an innovative solution in the corporate housing industry—instead of having to fill out paperwork. Many guests had requested an online payment option, and our partnership with PayLease provides the perfect solution."
To make online payments, guests simply need to visit the Furnished Quarters' website and click Pay Online from the main menu bar. From there, guests can set up either a one-time or recurring payment directly from the website. Online payments can be made either via credit card (Visa, MasterCard, American Express, or Discover), or using an e-check that debits funds securely from the guest's bank account.
Furnished Quarters chose PayLease because the company is the leading payments provider for the property management industry and Paylease provides high levels of security with guest information. Since incorporating in 2003, the company has expanded to serve thousands of property management clients throughout the United States, representing more than 8 million units. PayLease has consistently been featured in the Inc. 500, Red Herring Top 100, and Deloitte Fast 500 Lists.
"Using the new option to pay online, guests have the added convenience of making payments from wherever they are—whether at home, traveling, or from their smartphones," added Sullivan. "What's more, because PayLease is fully compliant with industry processing standards to PCI Level 1 and SSAE 16, our customers can feel secure and safe making their payments online."
For more information, visit http://www.furnishedquarters.com.
About Furnished Quarters
Furnished Quarters is an independently owned and operated provider of stylishly designed and fully equipped temporary furnished apartment rentals, both nationally and globally, and the largest provider of temporary furnished housing in New York City and Boston. Furnished Quarters also provides a diverse portfolio of temporary furnished apartments in New Jersey, White Plains, and Connecticut. Established in 1998, Furnished Quarters is a founding member of GO Furnished Housing Providers, a consortium of best-in-class temporary housing companies offering one-call access to apartments worldwide.