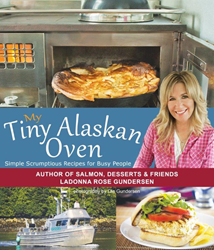 A little creativity and planning ahead is all it takes to make plenty of scrumptious meals."
Ketchikan, Alaska (PRWEB) July 10, 2014
LaDonna Gundersen has spent every summer for the past two decades in Southeast Alaska working side by side with her husband Ole on the LaDonna Rose, their 32-foot commercial salmon fishing boat. As chief deck hand and galley cook, she's responsible for all their meals, which are often prepared on the fly, on a madly rocking and rolling boat, in a tiny galley (kitchen), in between hauling in the catch. Yet when at sea she refuses to stock the galley with 'heat and eat' pre-prepared foods and instead has become adept at serving up scrumptious, inventive, quick and easy-to-prepare dishes. These form the basis of her cookbooks.
She has just released her third cookbook, My Tiny Alaskan Oven. The tiny oven of the title refers to the 18 x 21 inch diesel oil stove on the boat and its tiny 'easy bake oven' which is only big enough for an 11 x 7-inch pan. Her galley is only four feet long by five feet wide and her counter space measures a mere three square feet. This serious lack of space would cause many cooks to abandon the kitchen and eat out or turn to take-out menus. But that's not possible for LaDonna and Ole who spend weeks at a time at sea, miles and miles from the nearest store, let alone a restaurant.
"There are no supermarkets at sea and depending on the tides and the fish, I may have very little time to fix a meal," says LaDonna. "But just because we're on a boat doesn't mean we have to sacrifice taste or quality. I have to plan our meals and make the most out of every single ingredient that is available to me, but a little creativity and planning ahead is all it takes to make plenty of scrumptious meals."
The two must haves of all of LaDonna's recipes are short ingredient list and minimal prep time. Many of the recipes in My Tiny Alaskan Oven can be prepared in 30 minutes or less. The recipes were also specifically created to be made with minimal equipment, easy-to-find ingredients and be a breeze to clean up afterwards, placing less stress on the cook, and perfect for boaters or anyone dealing with a small kitchen or busy schedule.
My Tiny Alaskan Oven contains recipes for every meal of the day including: Apple Puffed Pancake; Pumpkin Donuts; Artichoke, Tomato and Spinach Pizza; Crab Croquettes; Garlic Shrimp Crostini; Coffee Spiced-Rubbed Spareribs; and Ole's Butter and Brown Sugar Squares. There are also new spins on much-loved classics such as Crab Cake Eggs Benedict, Hoisin-Glazed Meatloaf and Prosciutto-Wrapped Nectarine Bites.
Although created at sea and tested and approved by hungry fishermen, My Tiny Alaskan Oven is suitable not just for cooking in small spaces but also for kitchens with all the greatest appliances. It provides perfect meal solutions for busy moms and people on the go who crave an easy solution to preparing homemade meals for the family.
My Tiny Alaskan Oven is also more than just a cookbook. It's a travelogue and with lively stories about Alaska and the commercial fishing lifestyle accompanied by gorgeous full-color photographs taken by Ole (a professional photographer when not fishing) of the dishes, fishing and Alaskan scenery.
More information about the cookbooks, Ole and LaDonna's fishing life and sample recipes can be found at http://www.ladonnarose.com. The book is currently available for purchase online through Amazon, Barnes and Noble, Todd Communications and Fine Edge Publishing.
My Tiny Alaskan Oven
$24.95; 256 pages, full-color with 245 photographs, 107 recipes; 7 ½ x 8 ¾ inches, paperback with flaps
ISBN 9 781578 339518
Photographs by Ole Gundersen
Distributed by Todd Communications and FineEdge Publications
Editor's note:
High resolution images are available on request or at http://ladonnarose.com/about/press-kit/.
Recipes available on request.
Review copies available on request.