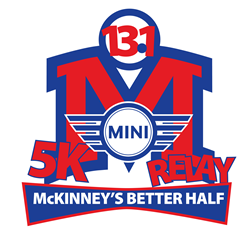 Mini, Medals, McKinney and MORE!
McKinney, TX (PRWEB) July 10, 2014
The McKinney Mini Half Marathon will return Saturday, November 8th for its 2nd Annual run from Craig Ranch. Get Racing has partnered with The Beach and the Pencils of Promise (pencilsofpromise.org) to produce an awesome half marathon event.
The race will benefit the Pencils of Promise, an award-wining nonprofit organization that has built more than two hundred schools around the world. For more information, visit http://www.pencilsofpromise.org.
GETRACING.ORG's most recent successful event on July 4th saw 550 plus runners starting their holiday weekend with a 5K run. Jose Marin (42 male from McKinney) earned the top spot and $100 with a 17:38. Finishing in 21:07 Lara Sormunen (17 from McKinney) was the first female. Sixty of these athletes participated in a race-within-a-race by bench pressing 80% of their body weight after completing the 5K earning 10 second decrease in their finish time for every repetition lift. Don Crawford (50) did the most repetitions with 37 to win the 50-59 age group. Michael Berry (37) ended up with the fastest adjusted time (14:44) with his 31 reps. Top female lifters were Betty Walthall (43 Melissa) with 15 reps and Sherri McCarter (48 McKinney) did 11. For complete results for all races go to http://www.racechiptiming.com.
Other upcoming GETRACING.ORG races to train for the Mini include the Labor of Love (September 1) 10K and the Halloween Hustle (October 26) 15K. For more information on this series of races go to http://www.GETRACING.org.
Look for an announcement soon on GET RACING CHRISTMAS IN JULY for special registration fees.
Get Racing is a full service professional race production company. The staff of Get Racing are athletes themselves and have over 50 years of combined experience. They are dedicated to producing both fun and safe events for the community . From a charity fun run to a triathlon, Get Racing events have something for everyone. They believe in a healthy lifestyle and want to support that belief by creating events that get people outside exercising. You can keep up with all of the latest news from GETRACING at http://www.GETRACING.org, on Facebook at Facebook.com/GETRACING and Twitter at Twitter.com/GETRACING.